Recart and Manychat Recart works seamlessly with Manychat, Flow XO, Chatfuel, and other Messenger bots as well.
Recart and Manychat work alongside each other seamlessly. Due to Facebook's technical limitations, only a certain part of the subscribers will be included in both Messenger list, but they won't interfere with each other in any case.
Recart and Manychat both subscribe people who message your Facebook page, so these people will be automatically included in both lists, including those who sent you a message on the Recart Customer Chat. 👌
If you're using a Messenger Widget to collect subscribers, then due to Facebook's privacy settings you'll only have access to their profile info if they reply to the Automated Flows you sent them. After they do, they will become permanent Recart Messenger subscribers, and Manychat subscribers as well. To trigger as many responses as possible, we recommend using the Welcome Flow where you can now build up a chatbot or use the default Templates.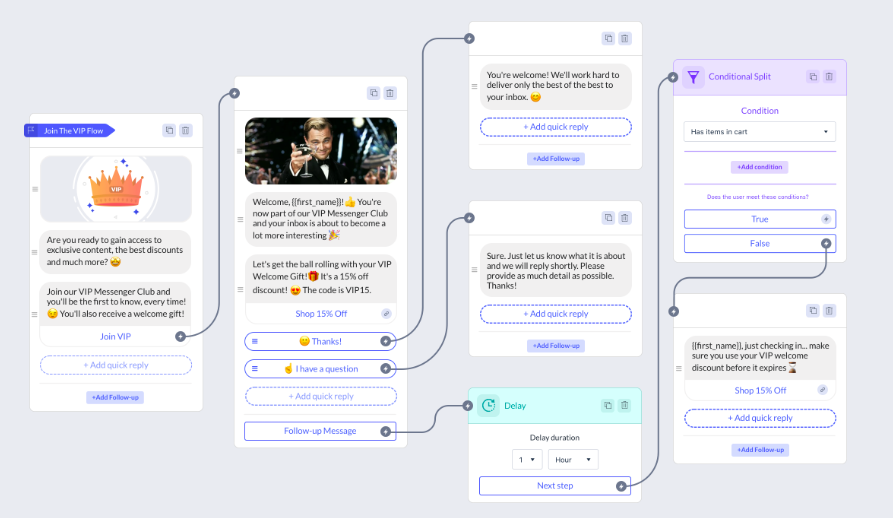 You can connect Recart to your Facebook page even if you already connected other bots, Recart won't interfere with them.
Recart works like this with most of the chatbot platforms out of the box: Chatfuel, Flow XO, MobileMonkey included.
What is the difference between Recart and Manychat?
Manychat originally started as a chatbot only, and improved into Messenger marketing.
Recart is the opposite, started from Messenger Marketing and improved into a chatbot. And because of that, Recart is much better at tracking. Furthermore, our integration with Shopify is way better, not to mention our conversion. 🚀
Other than the mentioned above, there is one crucial difference between Recart and Manychat: if someone goes to your store from the Manychat flow, they won't be able to track their shopping session. Manychat can't connect a conversation with their on-site tracking unless the visitor subscribers with a Manychat widget on your store during their shopping.
Recart is able to automatically track the shopping session of those who were directed to your store with a Recart conversation, so we're able to send follow-up messages, cart, discount and browse abandonment reminders without them having to subscribe on your store again.
If you have a question about a specific chatbot platform, let us know in the support chat. 🙌