Sponsored Messages are a Facebook ad type that allows you to reach your Messenger subscribers right in their Messenger inbox.
Sponsored Message is the best way to send promotional messages to your Recart subscribers and achieve 90% open rates on your promotions.
You can send a single Sponsored Message or you can send a Flow as Sponsored Message from Recart. The latter lets you to lead your audience into a Conversation Flow, teach them about your products, and send follow-ups in case they don't purchase.
Important note:
Facebook will not deliver Sponsored Messages unless you have minimum 1000-2000 subscribers. Subscribers are those users who interacted with your Facebook Page within the last year.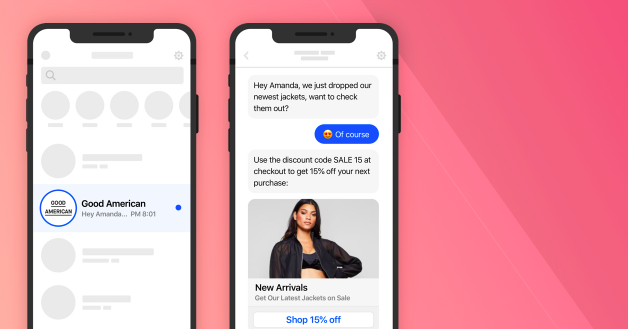 Please follow the steps below to create and activate your Sponsored Message in your Recart account 👇
1. Template or New Flow
You can choose to start with one of our pre-built Sponsored Message Flow Templates, or start one from scratch.
To start from a Template, please check our Templates and pick one.
Once you choose a Template to use, click on "Use This Template". You'll be taken to the wizard and then to the editor where you'll find the chosen flow.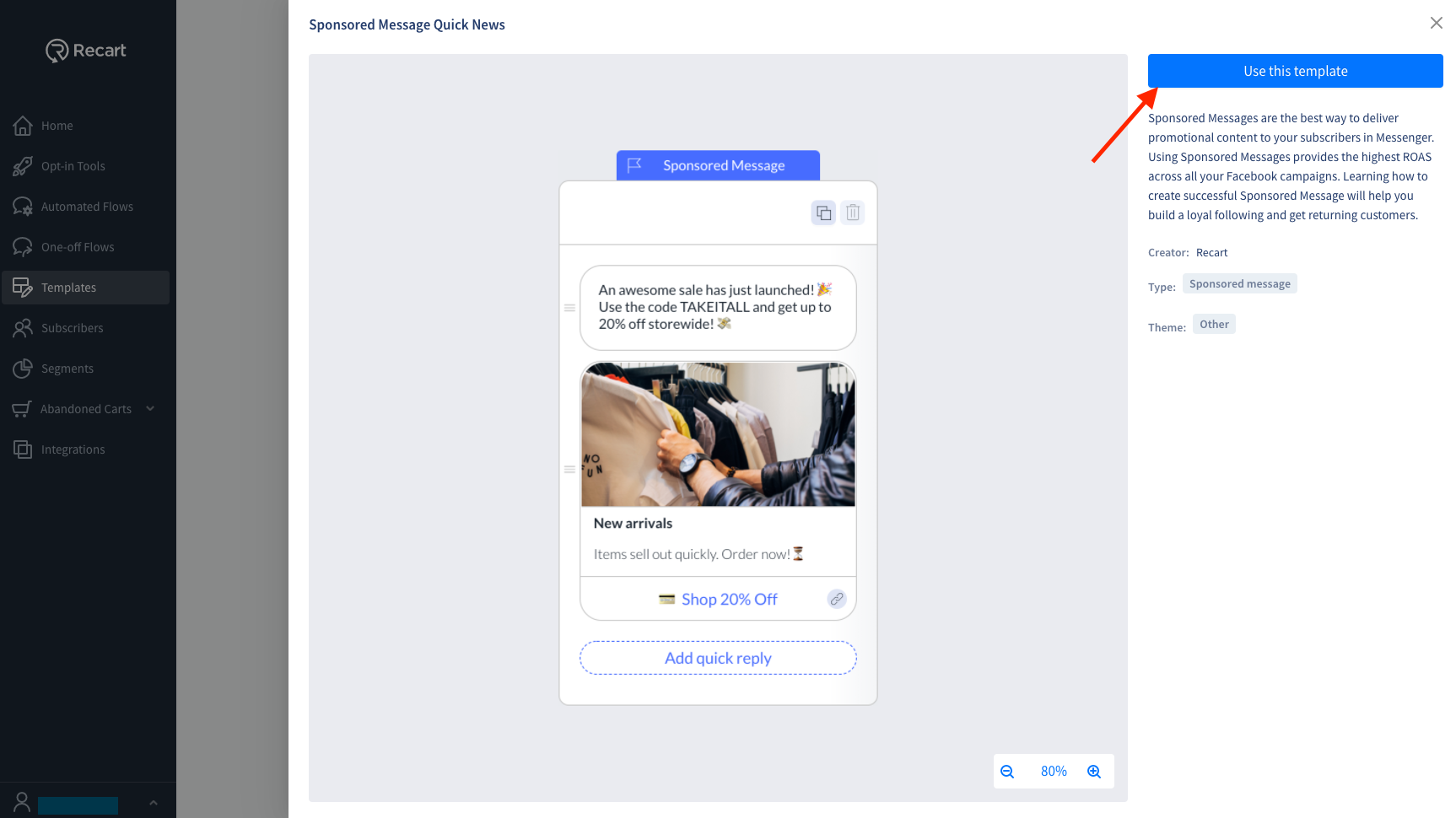 To start building a new flow from scratch, go to One-off Flows, and click on Sponsored Message, then Create New.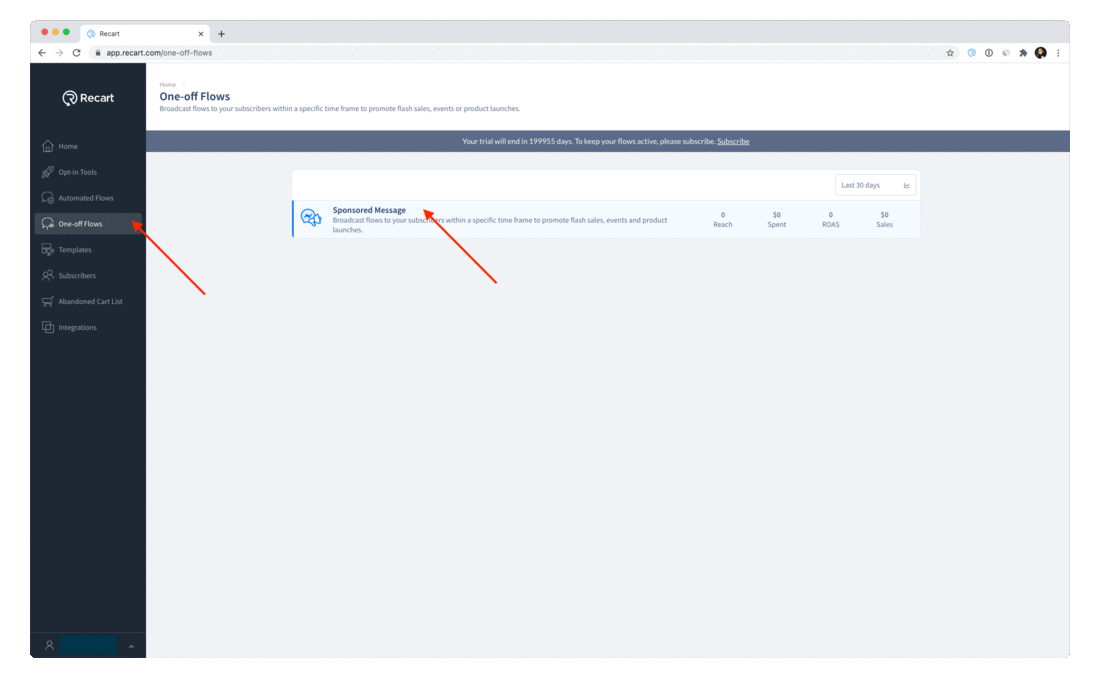 2. If you've not yet connected your Facebook Ad account you'll be prompted to do so.
3. Click the 'Connect Ad Account' button, you will be directed to the connect page, where you'll need to pick your Ad Account. Please note, your ad account must be connected to a Business Manager account to avoid sending sponsored messages to people who unsubscribed from your automated messages.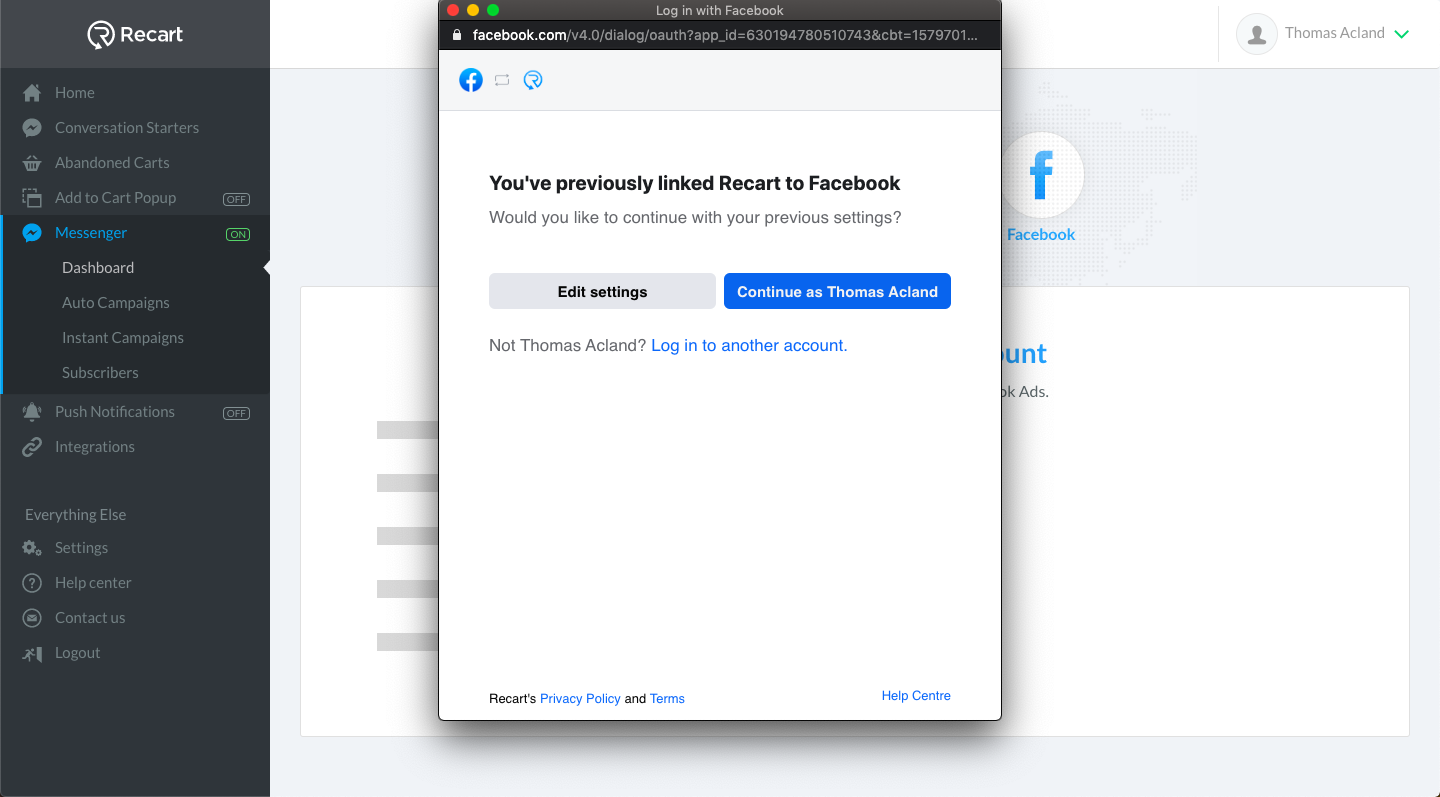 4. Once that is done, you will be directed back to the wizard, and you can set timing and budget as a next step.
Scheduling:
Please note that the default settings for the scheduling is automatically set for the same day you are creating the flow. You can edit the dates but it is recommended to have the ad running for 2-4 days even if you schedule it for later.
Budget:
Here you'll have the option to edit the lifetime budget and bid cap. We recommend adding $1000 for both. This amount will not be spent, it will just help Facebook prioritize your messages. The average price will be $25-$35/ 1000 opened message.
Audience:
The audience will be all your subscribers by default, everyone who interacted with your Page within the last 365 days.
Important notice: Recart will only exclude those who unsubscribed if you accept the Custom Audience Terms first.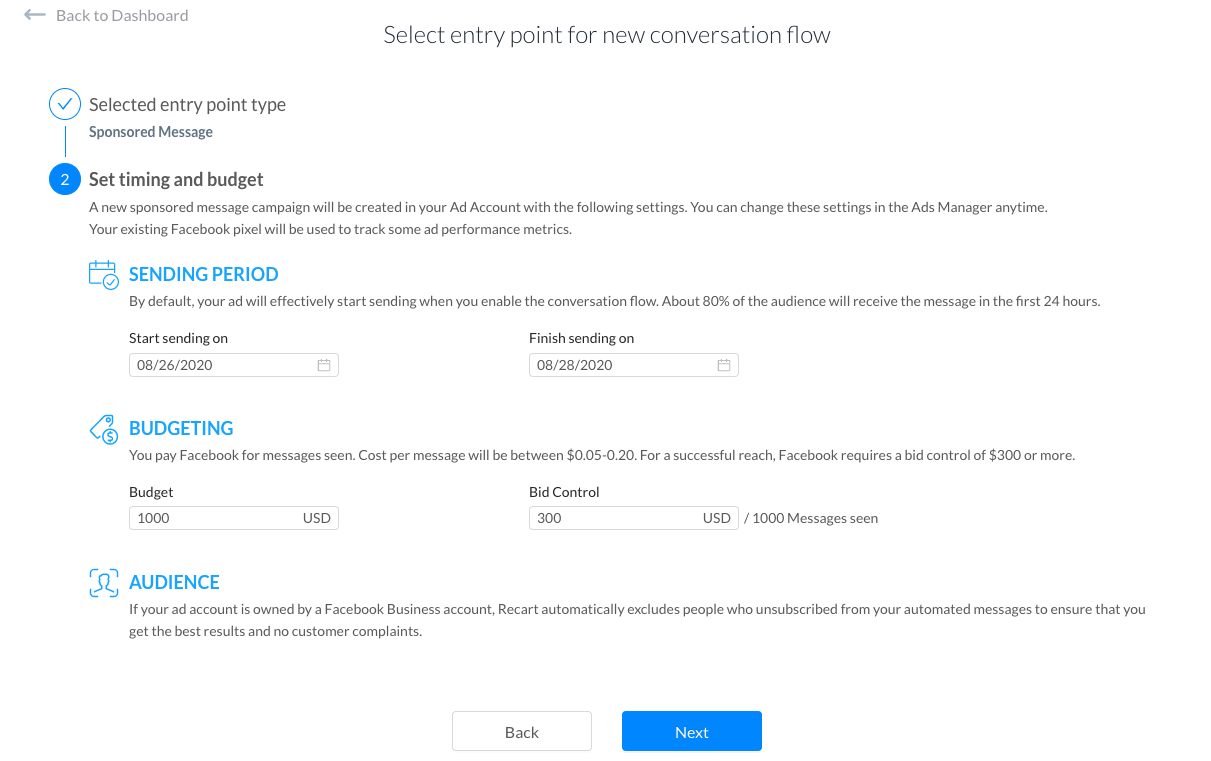 5. If everything looks good, click 'Continue to Flow Editor' and start building your Sponsored Message.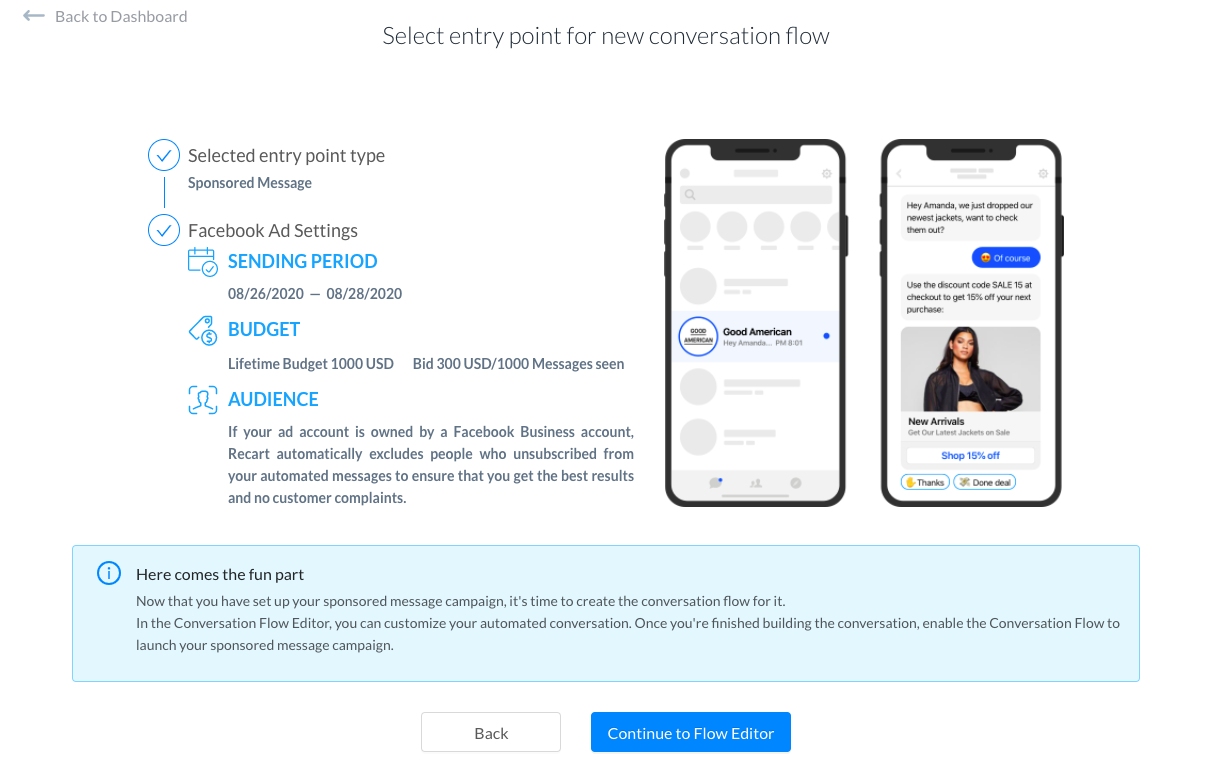 6. Now you can create your message. The best performing format of a Sponsored Message is one text element and one card element including a picture and a button that directs to the store. Recommended image size is 1200x628px.
When you enable the message in the upper right corner of the editor the Ad will become active in your Ad Account.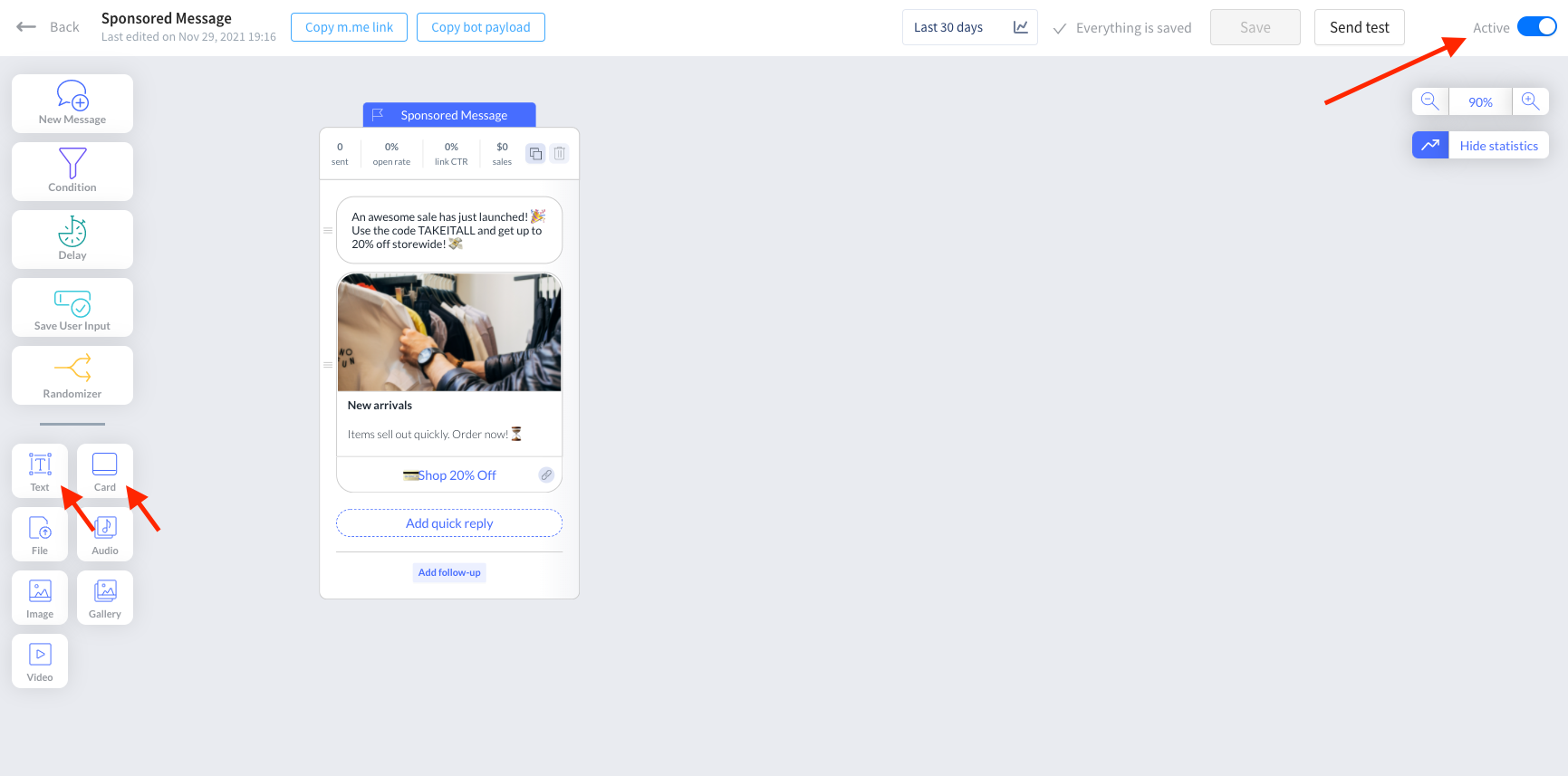 No need to go into your Ads manager to do anything, with one click in your Recart account the ad will be active: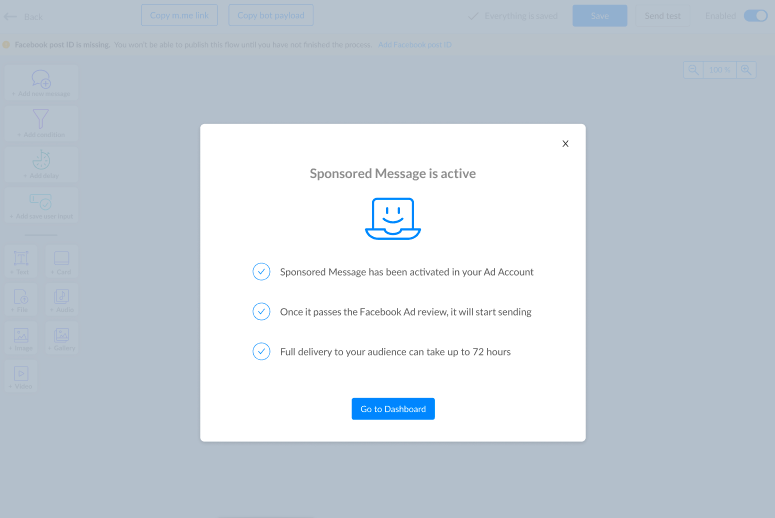 If you save your flow as a draft the ad will not go out: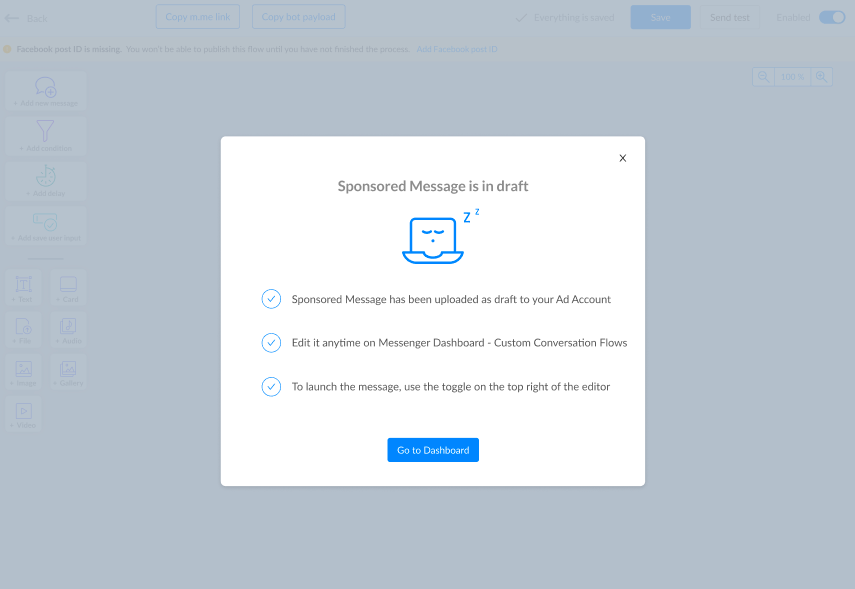 And that's it! 🚀 Your Sponsored Message Campaign will be sent to your audience after a successful Facebook review.
This is a Facebook ad format which means I have to set a bid. Now I have to pay for reaching my own subscribers?
Yes, you need to bid in order for your ad to run. However, this is going to be the most profitable campaign you'll run. It costs approximately $0.03 on average to show a message to a customer and you can expect 15-40X ROAS from your Sponsored Message campaigns.
How do I use the Conversation Flow Editor?
Recart's Conversation Flow Editor is an intuitive, drag-and-drop editor, that lets you connect messages to each other, creating a unique, engaging and automated conversation. Drag elements from the left-hand menu to the canvas, and connect the messages to each other to create a flow. Click here to learn more about the Conversation Flow Editor.
My question is not discussed here. Can you help?
We're always here to assist you! Feel free to contact our customer support team, we'd love to help! 😊