Exclude unsubscribed customers from your sponsored messages either from Recart or from Facebook Ads Manager.
When customers unsubscribe from Recart messages they won't receive further campaigns from the Recart bot.
However if the sponsored messages were launched from the Facebook Ads Manager directly, unsubscribed customers will receive your sponsored messages, because Facebook can not detect that those customers had unsubscribed.
You can avoid this either by launching sponsored messages from Recart, or by manually uploading and excluding a Custom Audience of unsubscribed customers to the Facebook Ads Manager.
1️⃣. Launch your sponsored messages from Recart
If you launch your sponsored messages from Recart, the unsubscribed customers will not receive your messages, because Recart will create and exclude this Custom Audience from the targeting. Every time you create new sponsored messages from Recart, the Custom Audience will be automatically updated.
Facebook has changed their Custom Audience Terms from 31st of August 2020, therefore there is a new step in creating sponsored messages from Recart.
If you go to the sequence editor of the Sponsored Message, you will see a yellow banner above the messages saying: Please accept the Custom Audience Terms to avoid sending sponsored messages to people who unsubscribed.
Click on Accept in Ads Manager, and accept the updated terms, if you have not done this previously.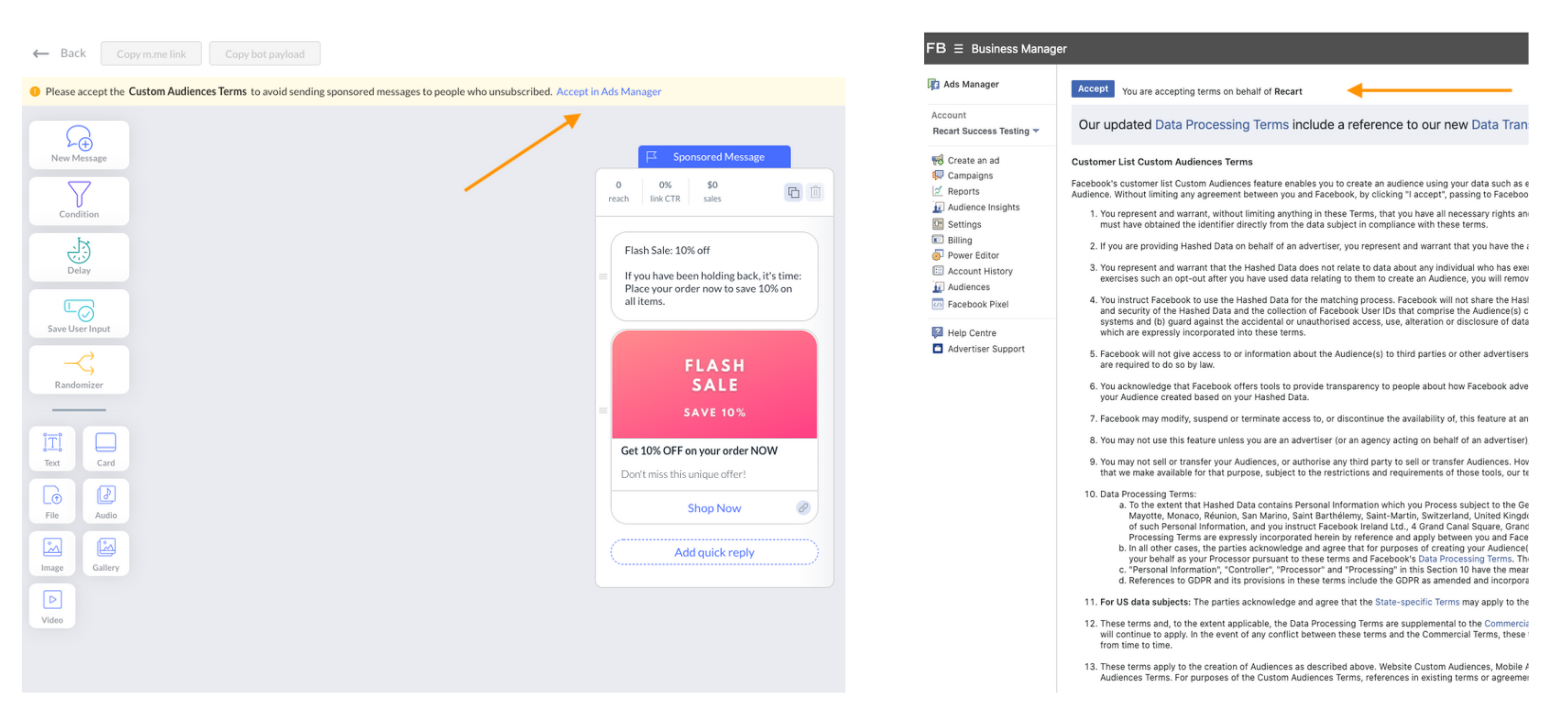 Note: You will not be able to use any of your custom audience as long as you do not have this policy accepted.
Once the updated terms are accepted, you are ready to create the sponsored message from Recart. The Custom Audience of unsubscribed customers will be excluded automatically.
2️⃣. Upload and exclude a Custom Audience from Facebook Ads Manager
You can exclude your unsubscribed customers from sponsored messages manually by uploading a Custom Audience to the Facebook Ads Manager. Please contact us to get the audience export.
After the export is done, here are the steps you need to follow to upload them as a Custom Audience:
Open the Business Manager and navigate to Audiences

Click on Create Audience and choose Custom Audience

Choose Customer list as source

Select Yes, as your list includes Customer Value

Click on Upload File, and type the name for the audience

Choose your Customer Value Column: pageId

Navigate to Action needed tab and open the Do Not Upload menu

Choose: Facebook Page User ID

Click on Enter Facebook Page IDs and enter it

Click on Upload and Create 🎉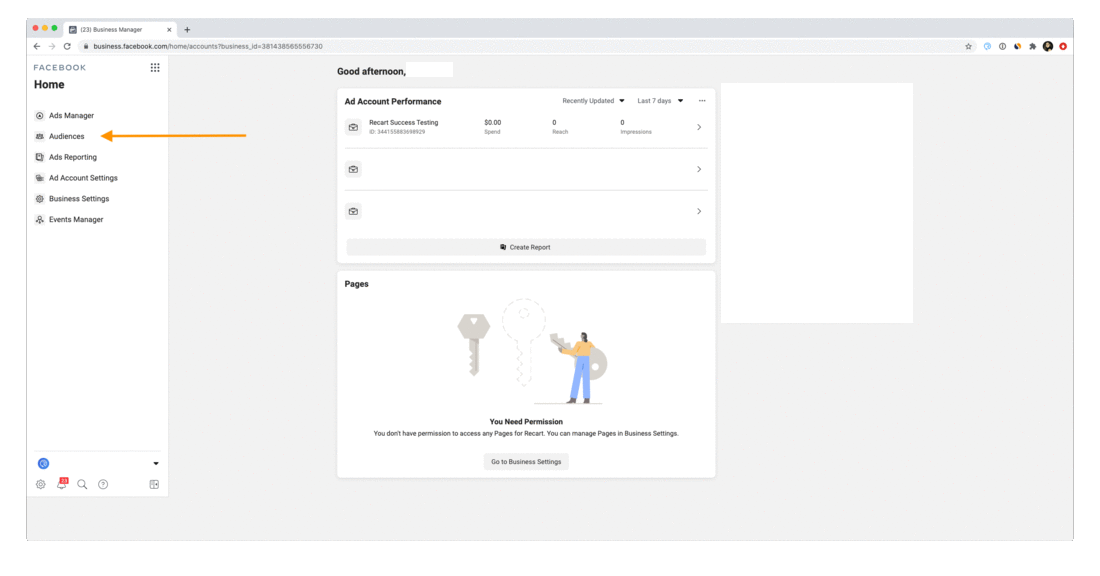 Once your Custom Audience is ready, you can launch the sponsored messages and exclude them from your targeting.
How can your customers unsubscribe from your messages?
• Customers can type the message Stop or Unsubscribe manually in English, or you can add those words as a quick reply to any Recart Conversation Flows.
• You can manually unsubscribe them from your Recart Subscriber list - each subscriber who got unsubscribed manually by you after the 8th of October will be automatically synced to the custom audience.
• Customers can manually unsubscribe from Messenger by clicking on the blue tick on the top right corner of Messenger

How to handle the complaints received from unsubscribed customers?
If you have not excluded the unsubscribed customers from your Sponsored Messages, you might need to apologise for bothering them.
Here is a nice example in case your customer support team would like to save it and create a saved reply out of it:

Hi there,
We're sorry for the inconvenience. To unsubscribe from all our messages, please go to the blue tick on the top right and tap on "Turn Off Messages". Sorry to bother you, have a nice day. 🌻
For further information, feel free to contact our support team, we are happy to help. 😊