Facebook or Instagram Click-to-Messenger ads allow you to reach new audiences and gain more subscribers.
Create Facebook and Instagram ads that take customers to Recart Conversation Flows. Unlock exclusive content or offers, run product quizzes or teach them about your mission and products.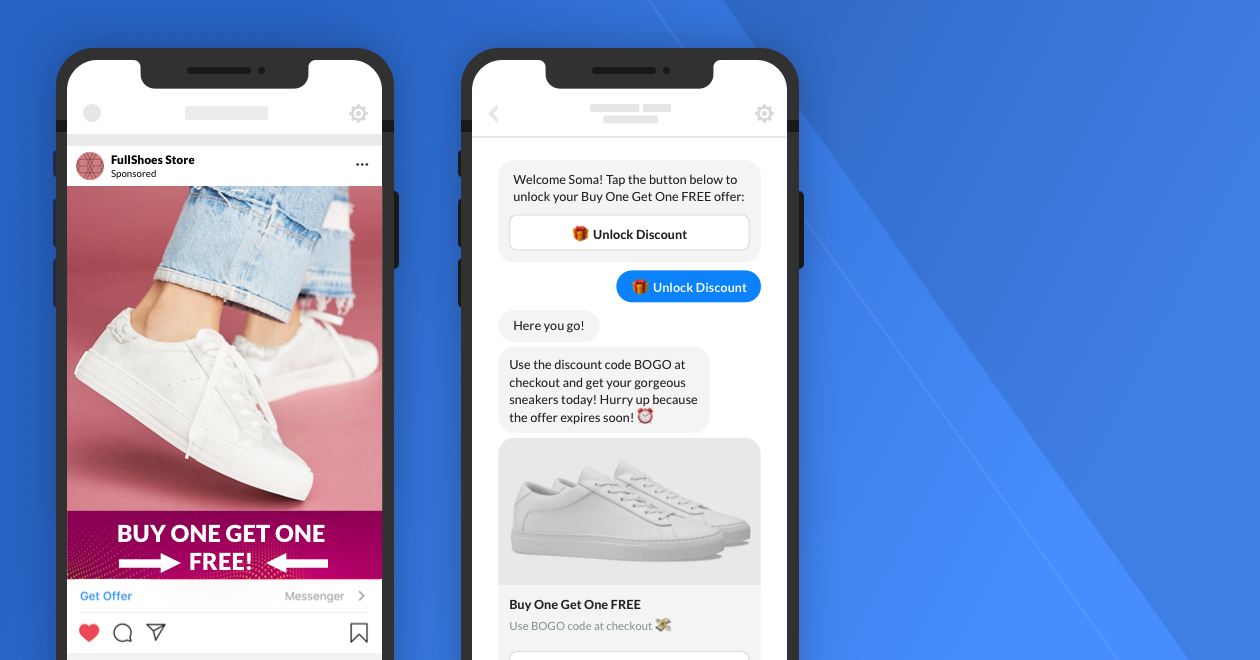 Our high-converting flows will help you turn prospects into customers by offering discounts and sending automated reminders in case they don't purchase. Thanks to the 90% open rates on Messenger, you can easily achieve 5-12X ROAS with Click-to-Messenger ads.
Before you can start setting up your Click-to-Messenger ad in Recart, in your Facebook Ads Manager you must have:
a campaign, with Messages Objective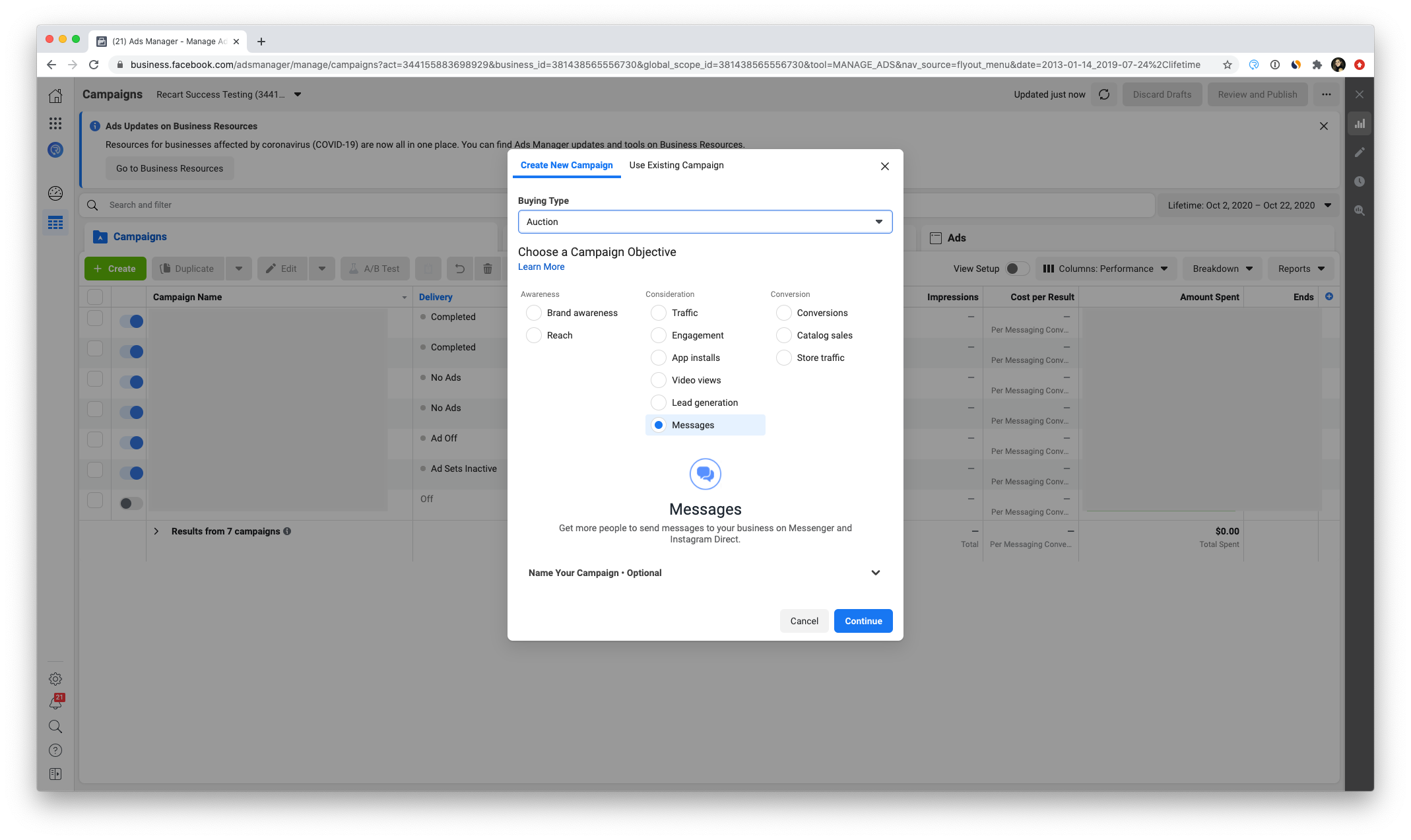 and the destination set to 'Click to Messenger'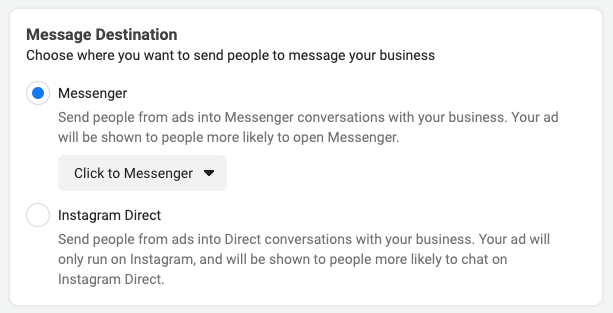 It's necessary to have at least one campaign in your Ads Manager with these criteria because Recart will import the Click-to-Messenger Conversation Flow into one of the eligible campaigns.

If you've met all these criteria, please follow the steps below. 👇
1. Template or New Conversation Flow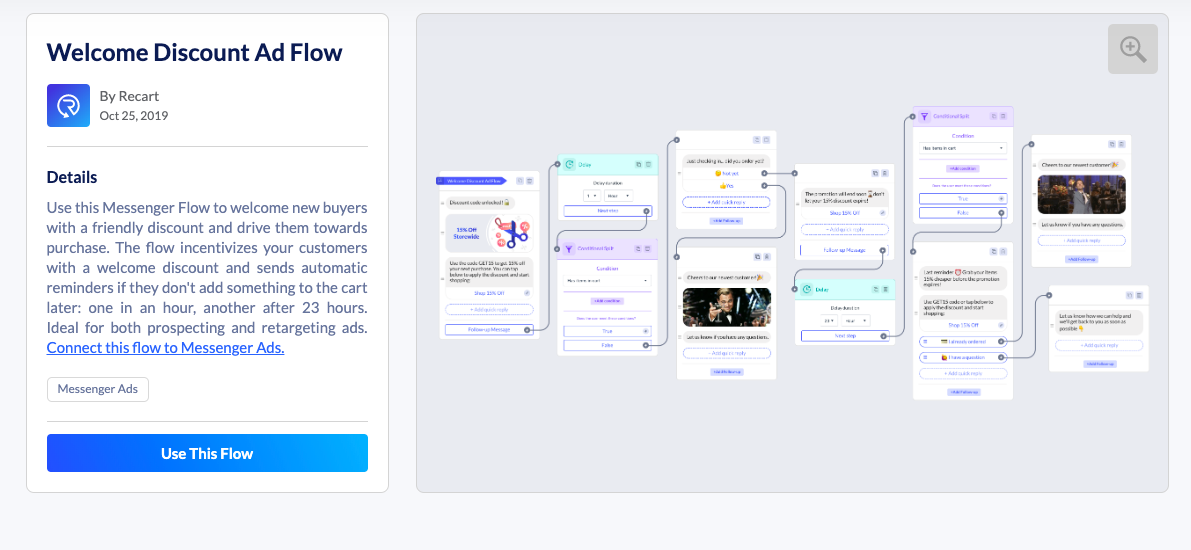 To start building a new Conversation Flow from scratch, please navigate to Automated Flows, choose Click-to-Messenger, and click on Create new in the upper right corner.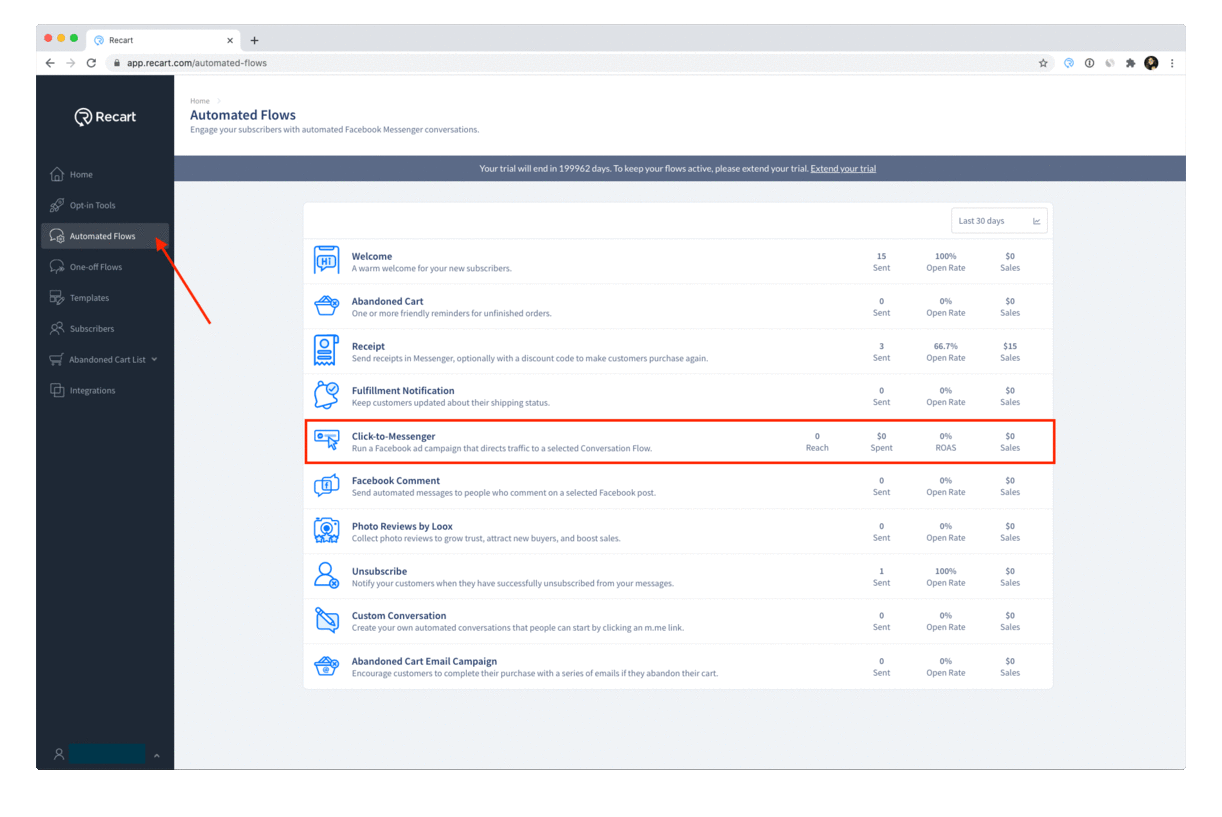 2. If you've not yet connected your Facebook ad account, click the Connect Ad Account button. You will be redirected to the page, where you can do so.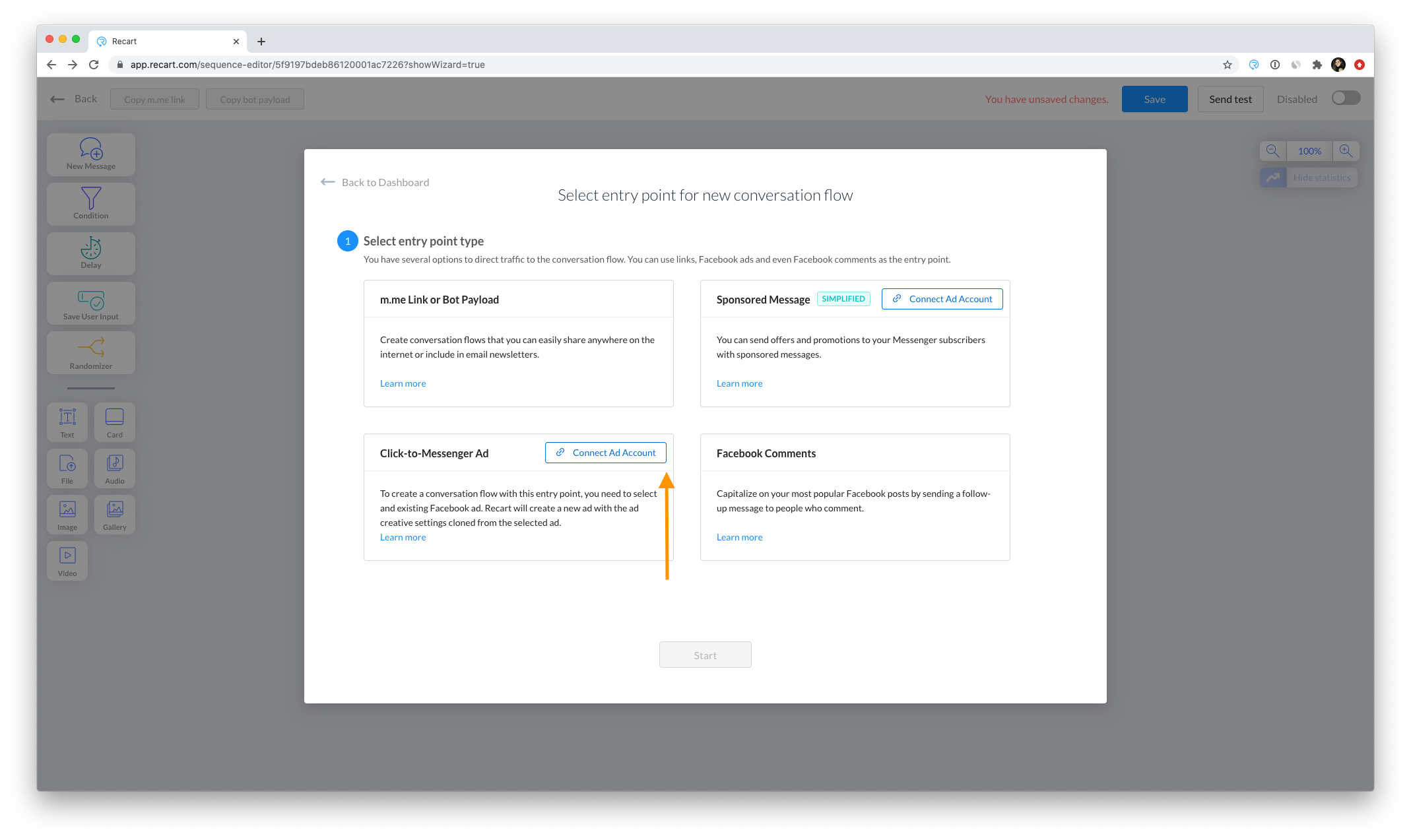 3. Once that is done, you will be directed back to the wizard. Select your Click-to-Messenger ad from the list shown below. In case you can't select your ad from the list, you can copy the ad ID from Facebook Ads Manager, by using the clicking here link.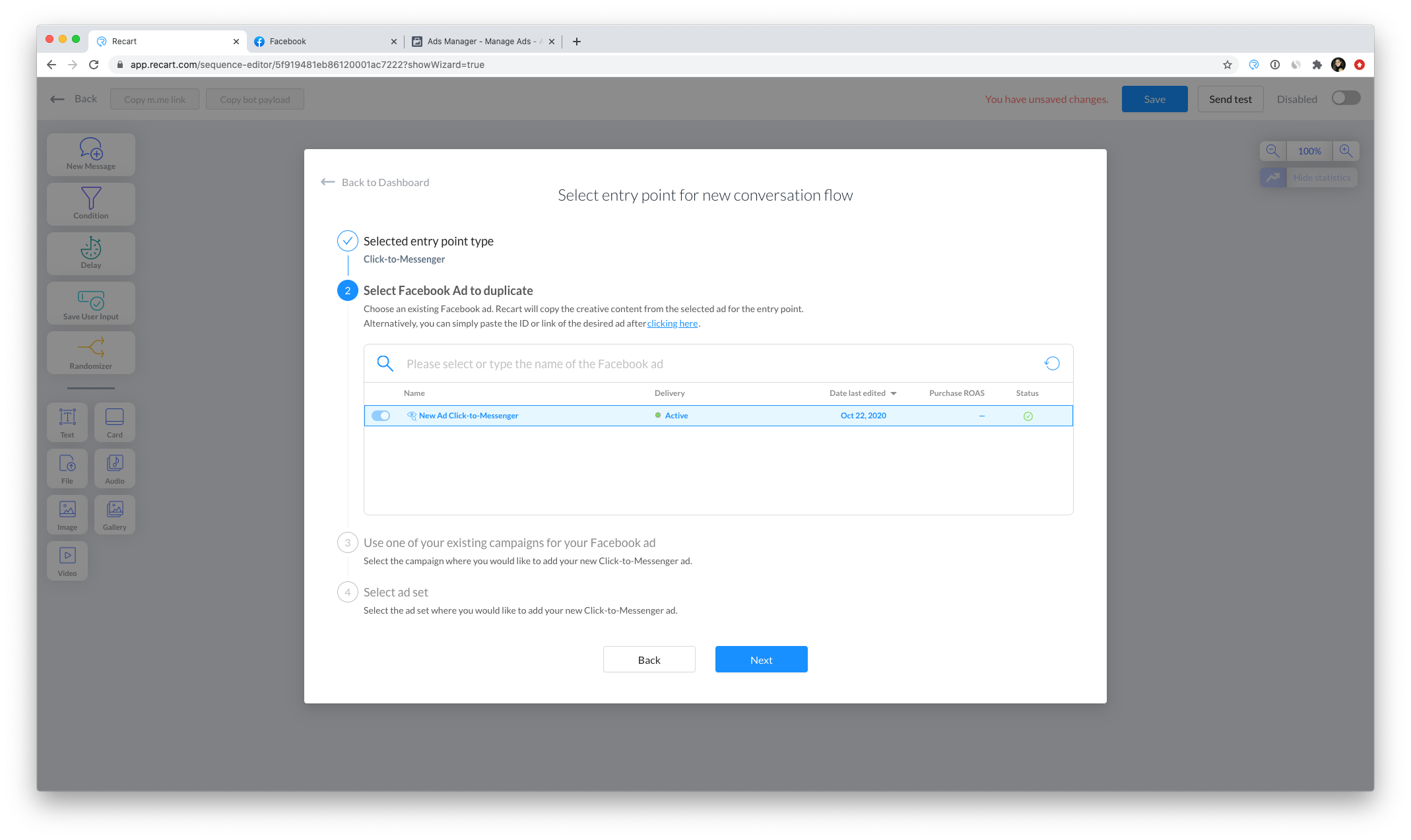 Paste the ad ID to the field below. (Check the FAQ at the bottom of this page, and learn how to find it.) If you can't find the ad ID you can paste the ad's URL and click Next.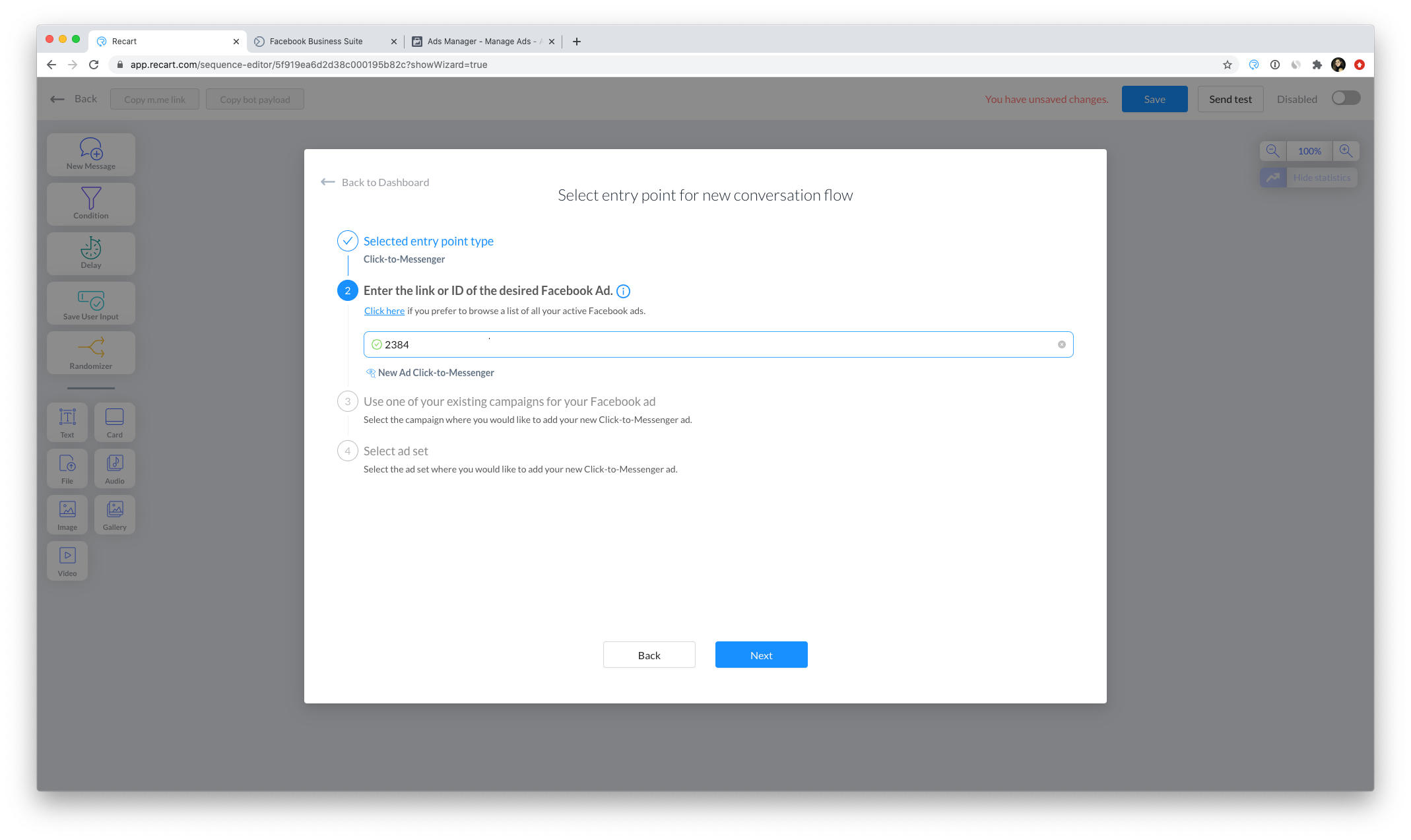 4. Select one of your campaigns for your Click-to-Messenger ad, and click Next.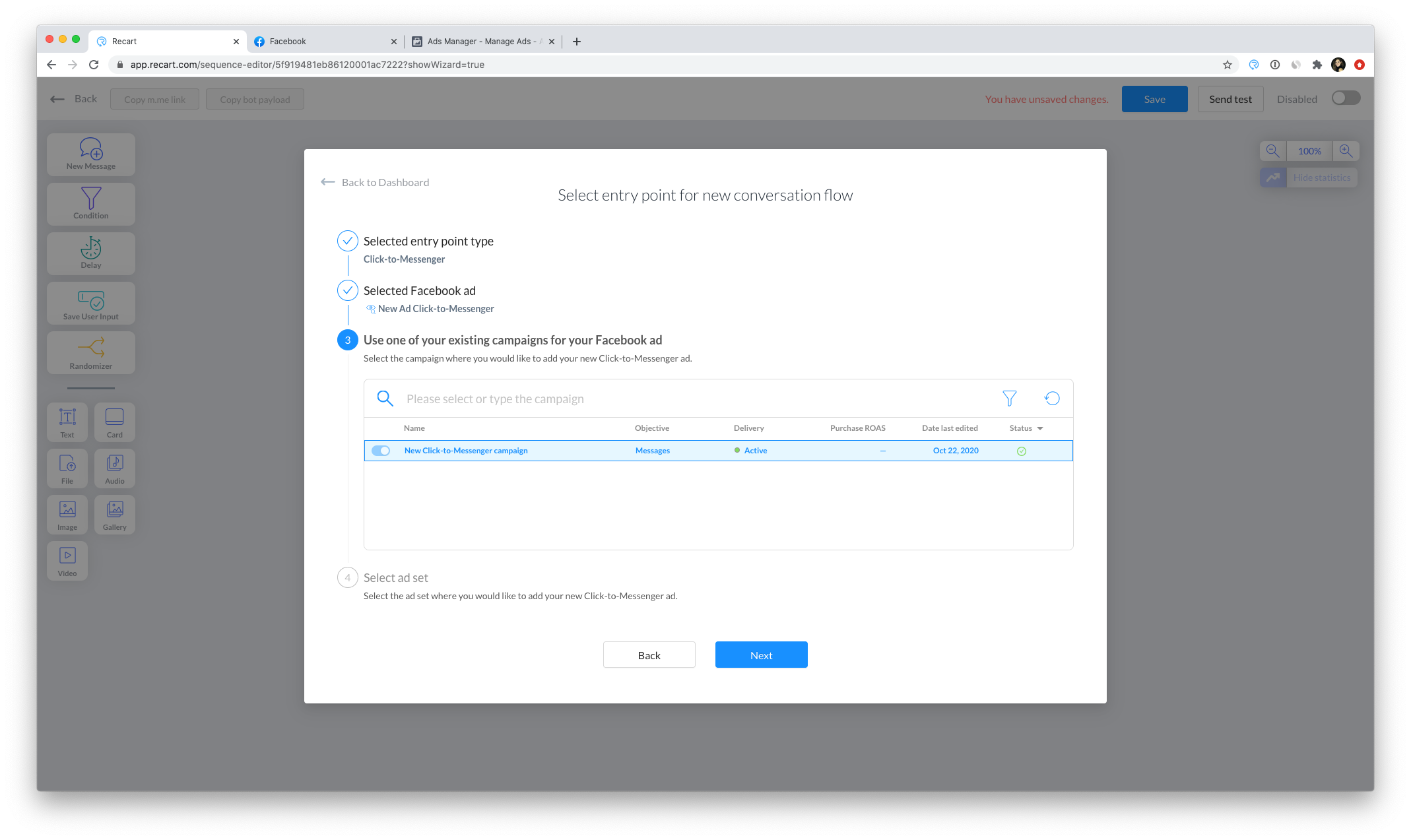 If you aren't able to select your campaign and click Next, then the issue is with one of the required settings described at the top of this article. ☝️
5. Last but not least, select the ad set for your Click-to-Messenger ad, then click Next.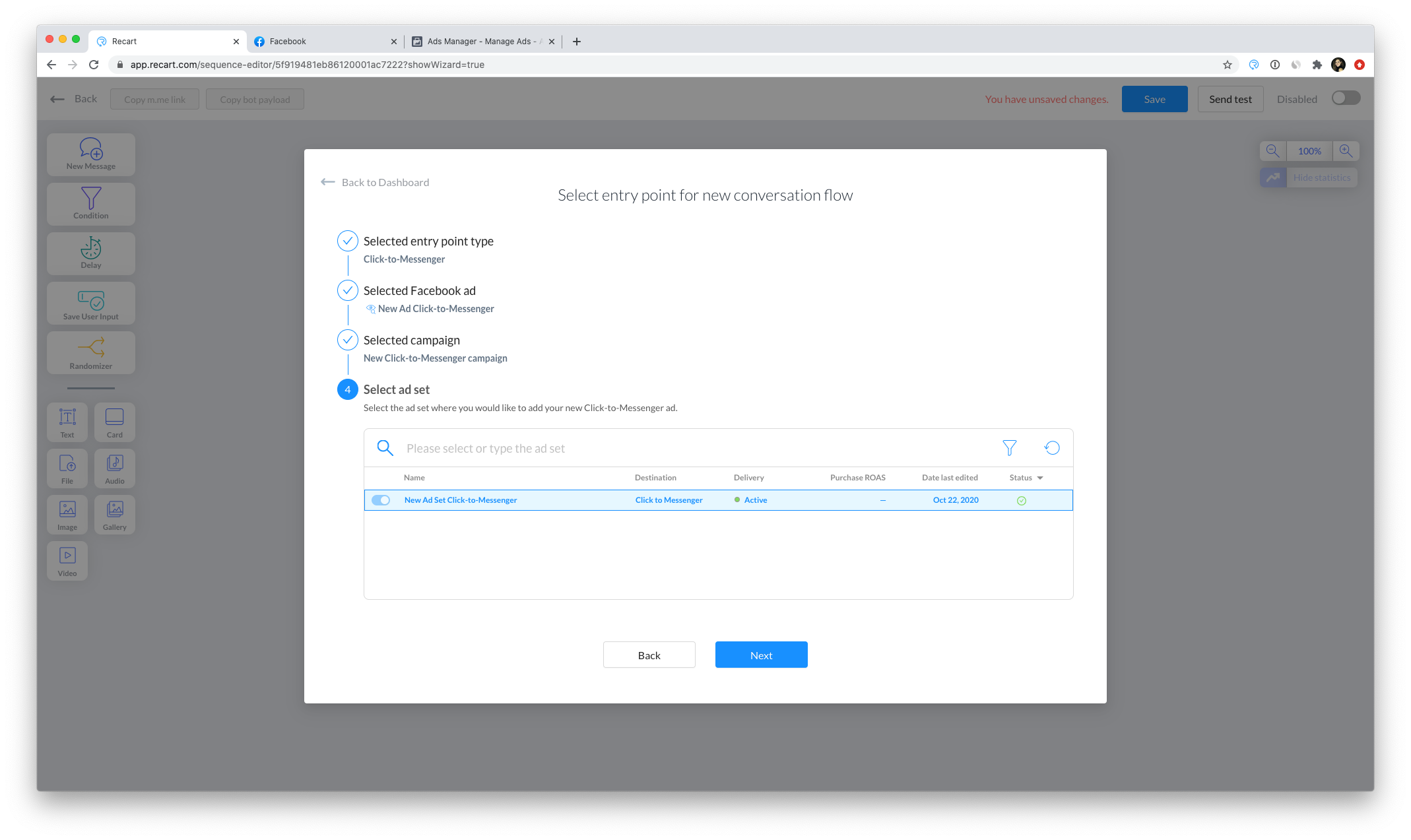 6. If everything looks good, click Continue to Flow Editor, and start building your Click-to-Messenger Conversation Flow.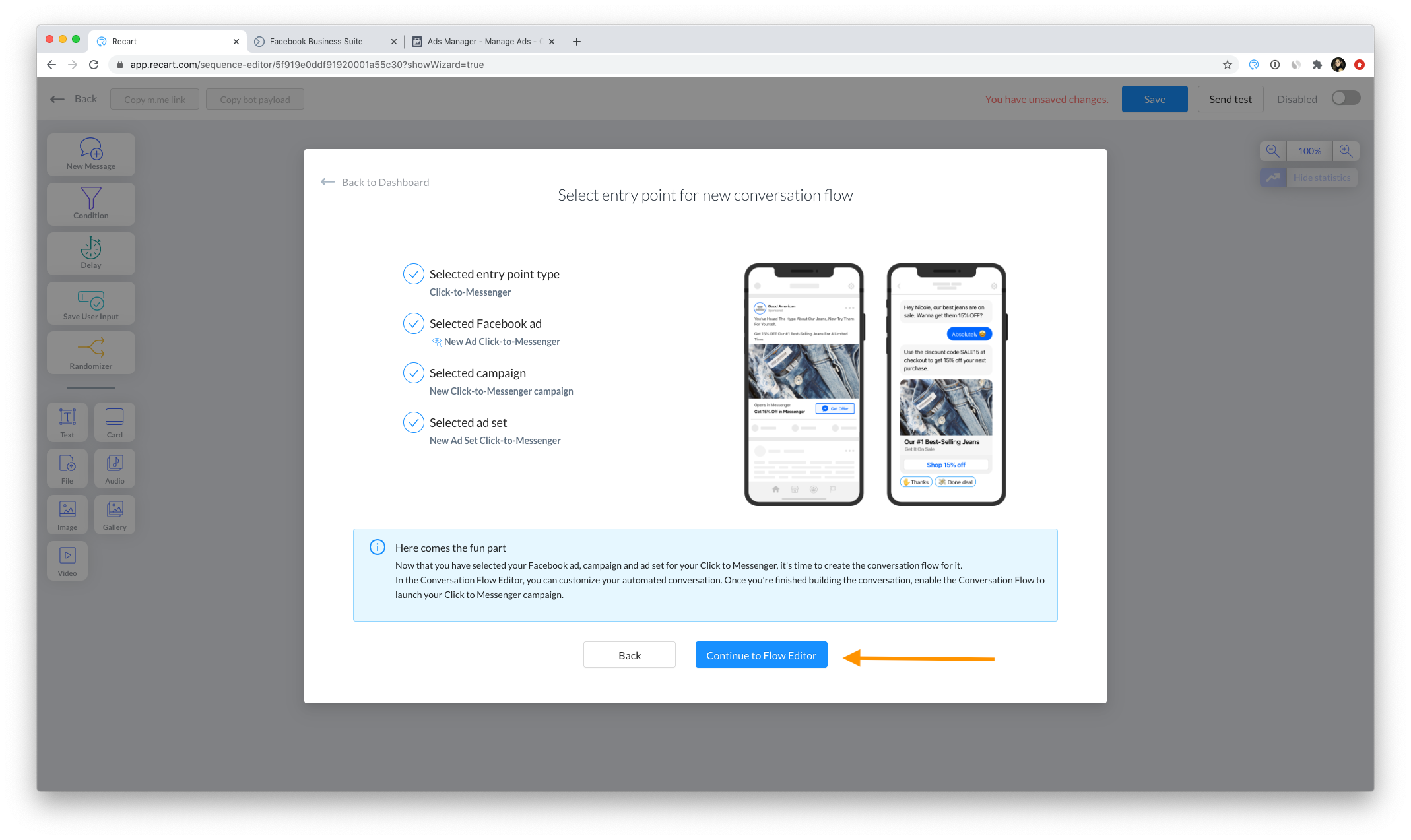 8. Edit your Conversation Flow, then test it by clicking on the Send Test. Once you're ready, you can enable it by clicking on the toggle in the upper right corner. When you enable the Conversation Flow in Recart, the Click-to-Messenger ad will be active.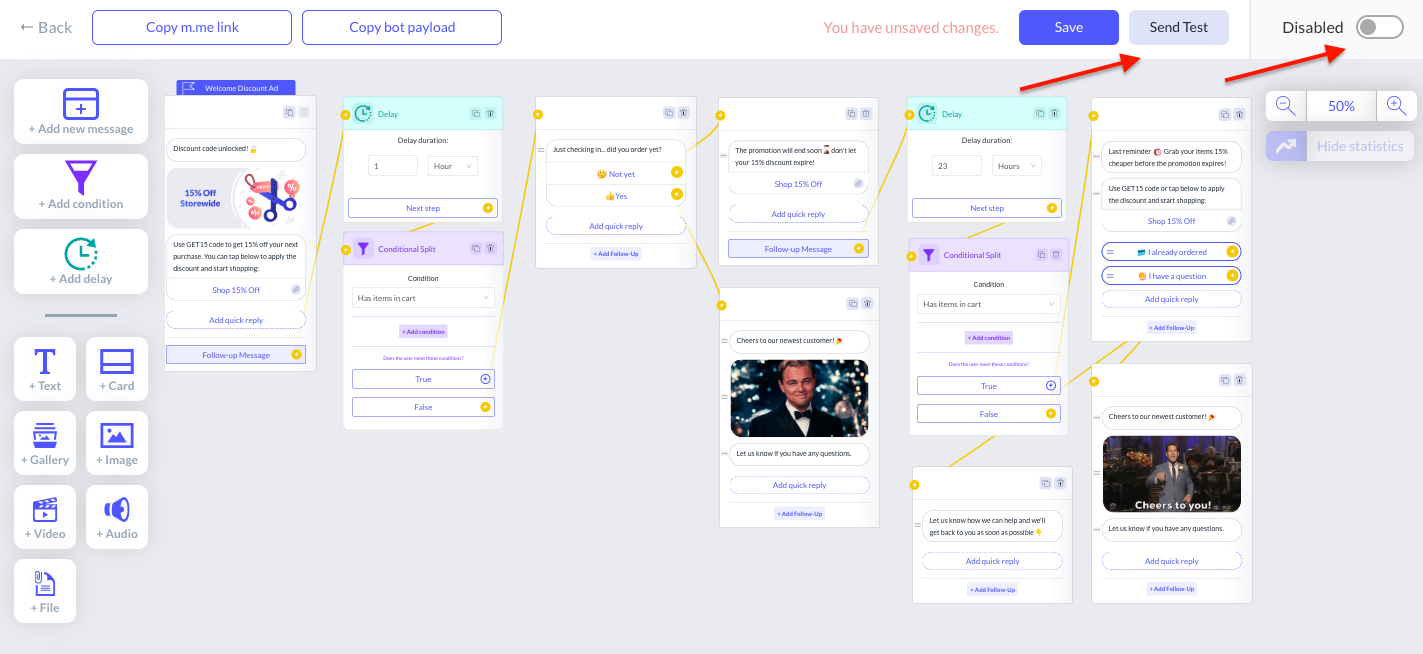 9. Go to your Facebook Ads Manager and check if the campaign, ad set, and ad are all activated properly.
And that's it! 🚀 Your Click-to-Messenger ad will be sent to your audience after a successful Facebook review.
This is a Facebook ad format which means I have to set a bid. Now I have to pay for collecting new subscribers?
Yes, you need to bid in order for your ad to run. However, this is going to be the most profitable campaign you'll run. The average cost per click is $3-6 and you can expect 5-12X ROAS from your Click-to-Messenger ads.
How do I use the Conversation Flow Editor?
Recart's Conversation Flow Editor is an intuitive, drag-and-drop editor, that lets you connect messages to each other, creating a unique, engaging and automated conversation. Drag elements from the left-hand menu to the canvas, and connect the messages to each other to create a flow. If you're looking for a detailed walkthrough, check out this article.
I don't have a suitable campaign in my list, what should I do?
First things first, make sure that you have a Facebook campaign in your Ads Manager with the objective of Messages in order for Recart to run Click-to-Messenger ads.
You can either copy one of your previously created ads and change its settings to Messages objective, or you can create a new ad from scratch.

Please note that the Click-to-Messenger ad should be created from the same Facebook ad account you connected to your Recart Dashboard.
How can I find my campaign, ad set or ad ID in my Ads Manager?
You'll need your ad ID for Recart, and you can locate it if you click on Edit under your campaign's name. Then, select the ad, click on the three dots in the upper right corner and you'll find your ad ID: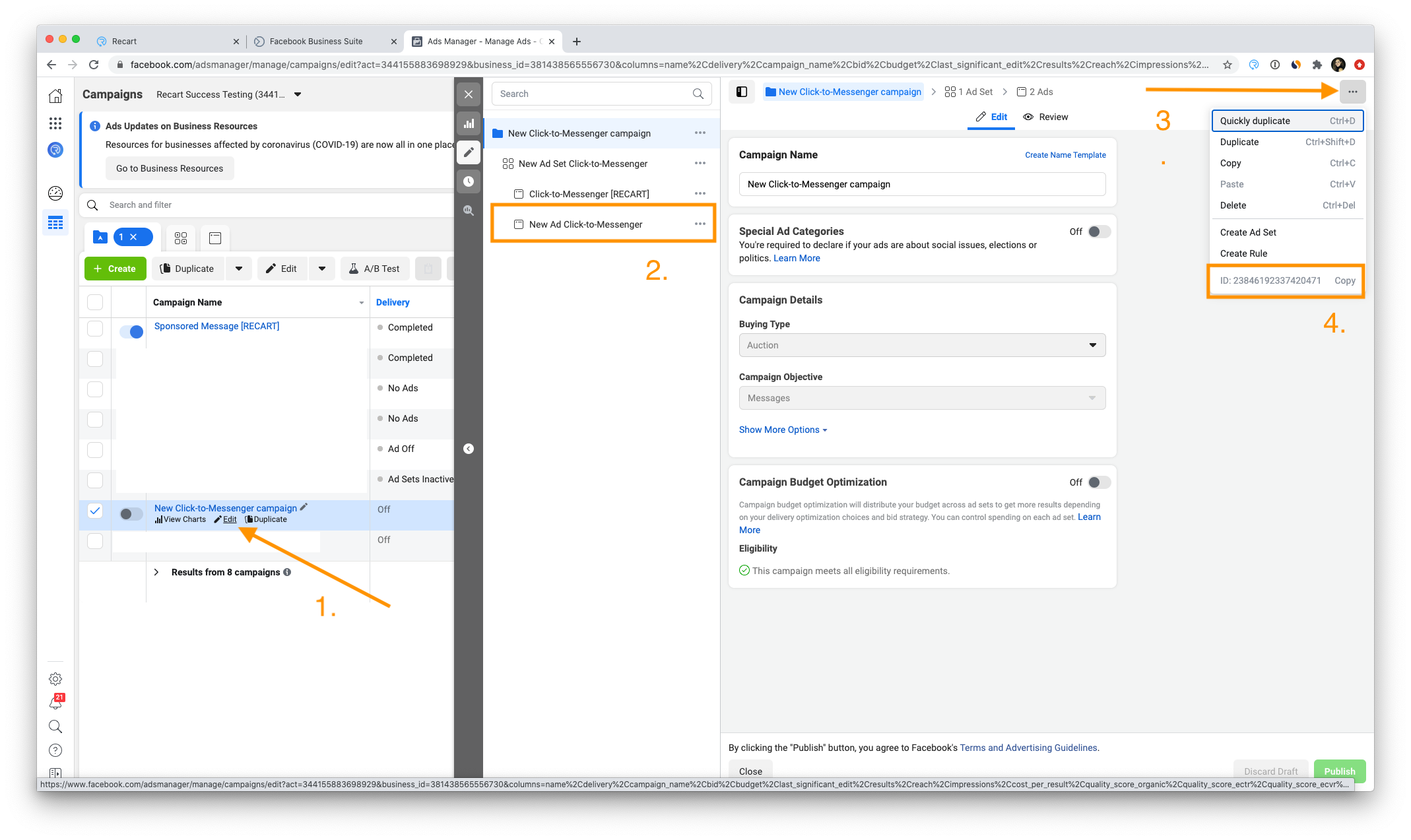 Also, you can locate your campaign, ad set and ad ID from the URL of their previews.
My question is not discussed here. Can you help?
We're always here to assist you! Feel free to contact our Customer Support team, we'd love to help! 😊