Learn how you can grow your Messenger list by attaching custom conversation flows to your Click-to-Messenger Ads using Recart.
Using the bot payload method, you can create Facebook and Instagram ads that take customers to Recart Conversation Flows where they can unlock exclusive content or offers, or learn more about your company's mission and products.
Our high-converting flows will help you turn prospects into customers by offering discounts and sending automated reminders in case they don't purchase. Thanks to the 90% open rates on Messenger, you can easily achieve 5-12X ROAS with Click-to-Messenger ads.
First, create the automated message flow in Recart that you want to connect to your Ad
You can choose to create the messages from scratch or use a pre-built flow from our Templates.
If you start from scratch you will need to create a Custom Conversation Flow. Go to the Automated Flows page, and choose Custom Conversation, then click on Create new.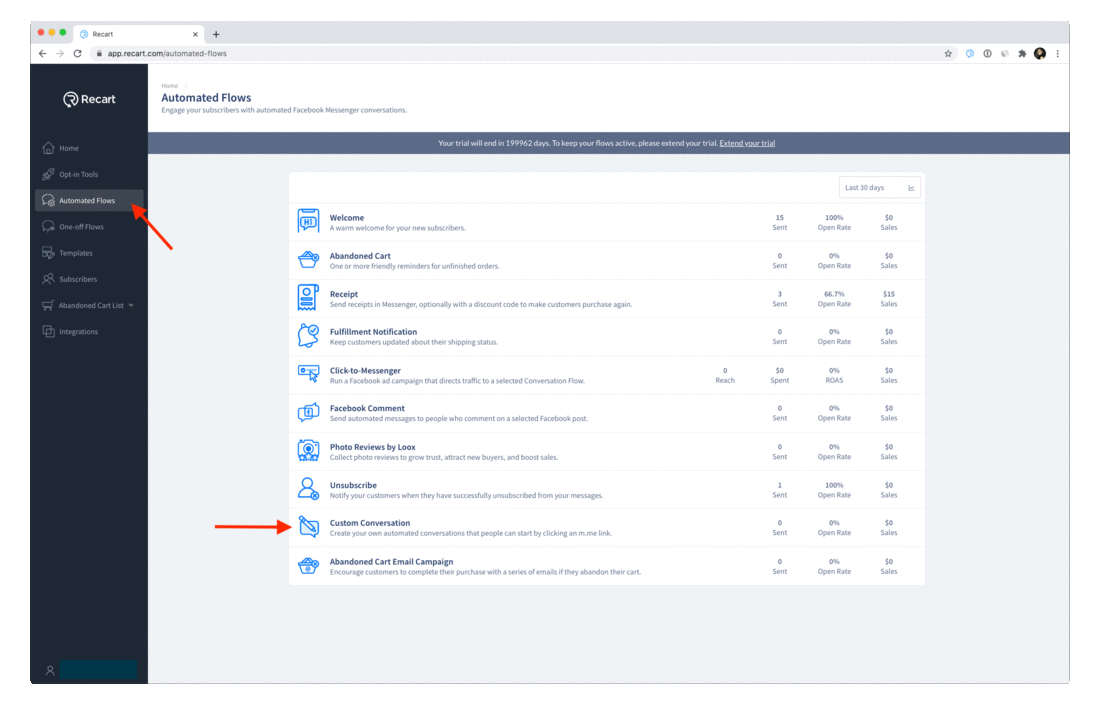 If you would like to use a template, or just need some inspiration please check out our Templates Page. You can find more information about using our templates in this help article.
Once you have your messages ready, you will need to Save and Activate your flow in the upper right corner of the editor. When it is done, click on Copy bot payload in the upper left corner and paste what you have copied in the Ads Manager while setting up your ad.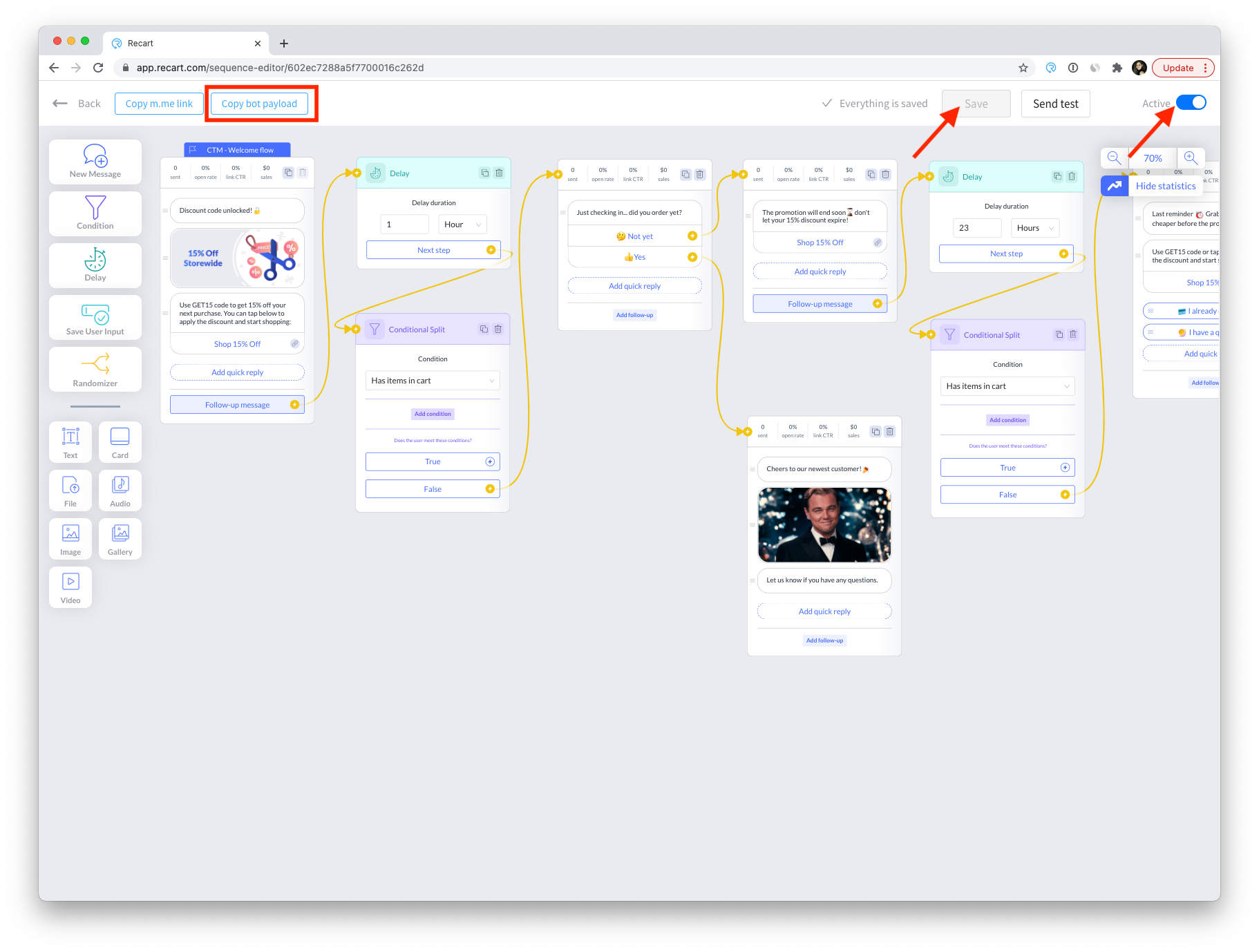 Set up the Click-to-Messenger Ad
Go to your Facebook Ads Manager and create a campaign. Be sure to pay close attention to what you select as the Campaign Objective and make sure to choose Messages as the Campaign Objective.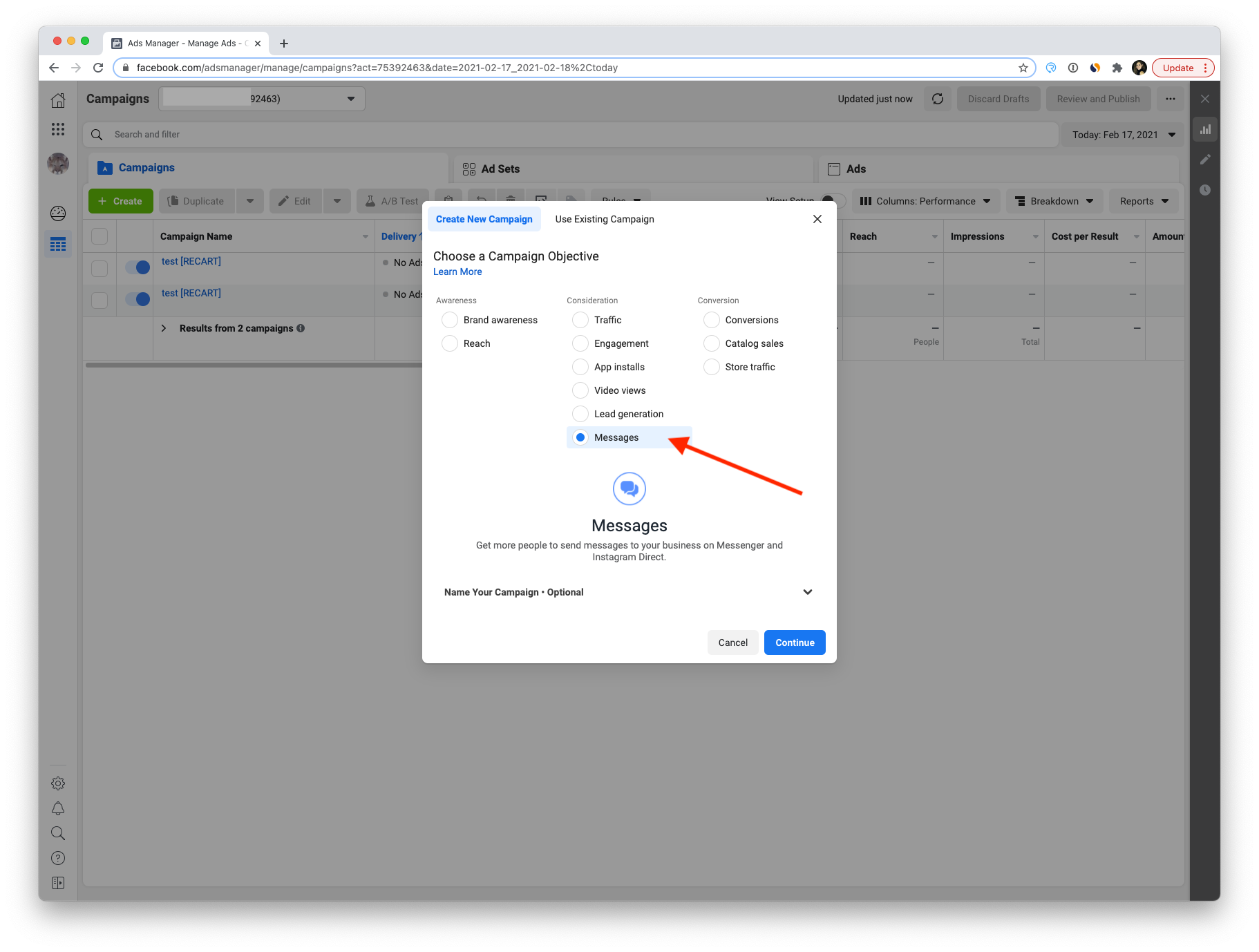 Then on the Ad set level, choose Click to Messenger as Message Destination.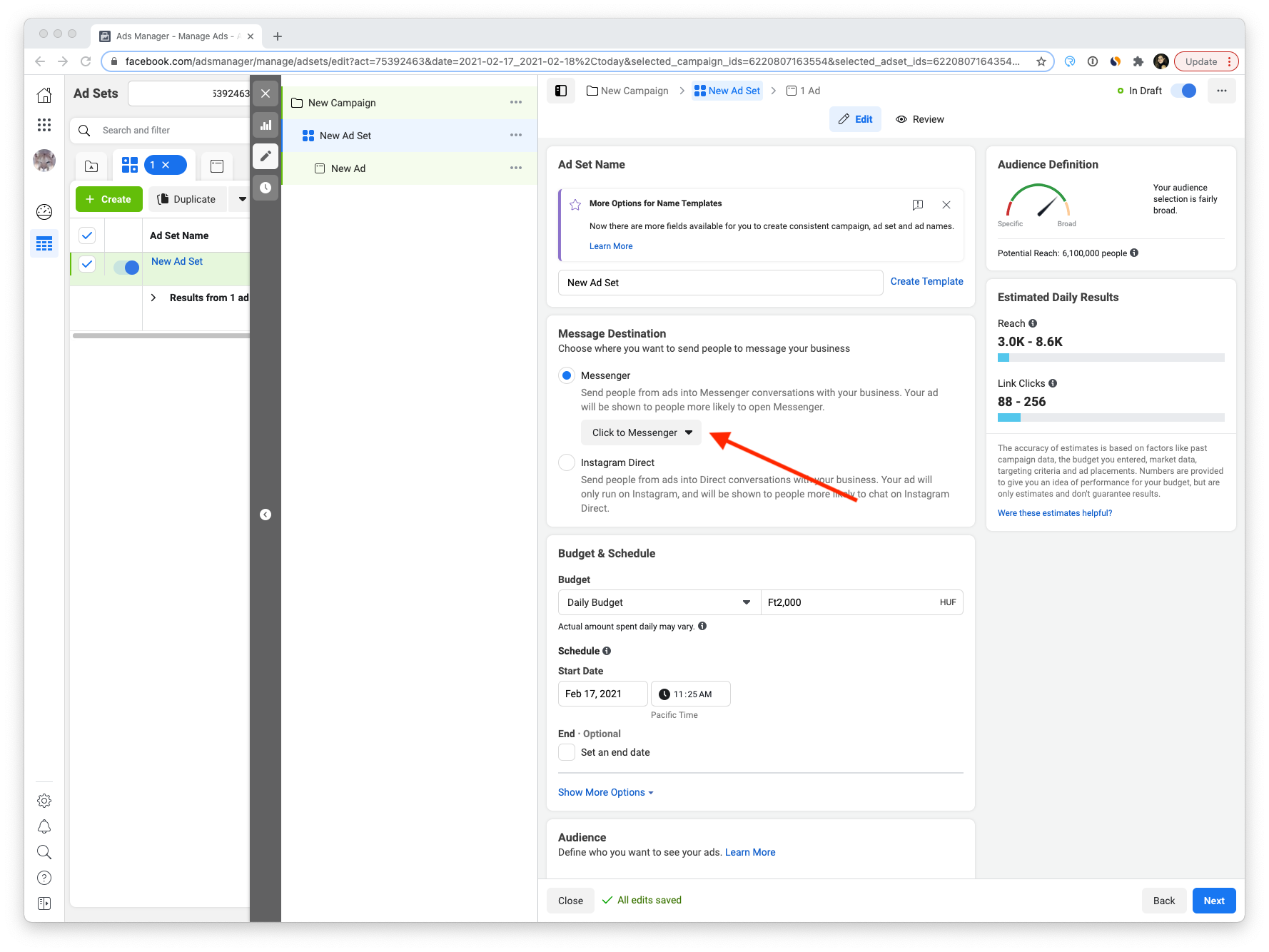 Set up your audience targeting, placement, budget, and schedule just like you would do with your regular Facebook ads. Then move on to the Ad level so that you can customize your ad creative. When this is done, it is time to craft the Welcome Message. Click on the Edit button in the Message Template section.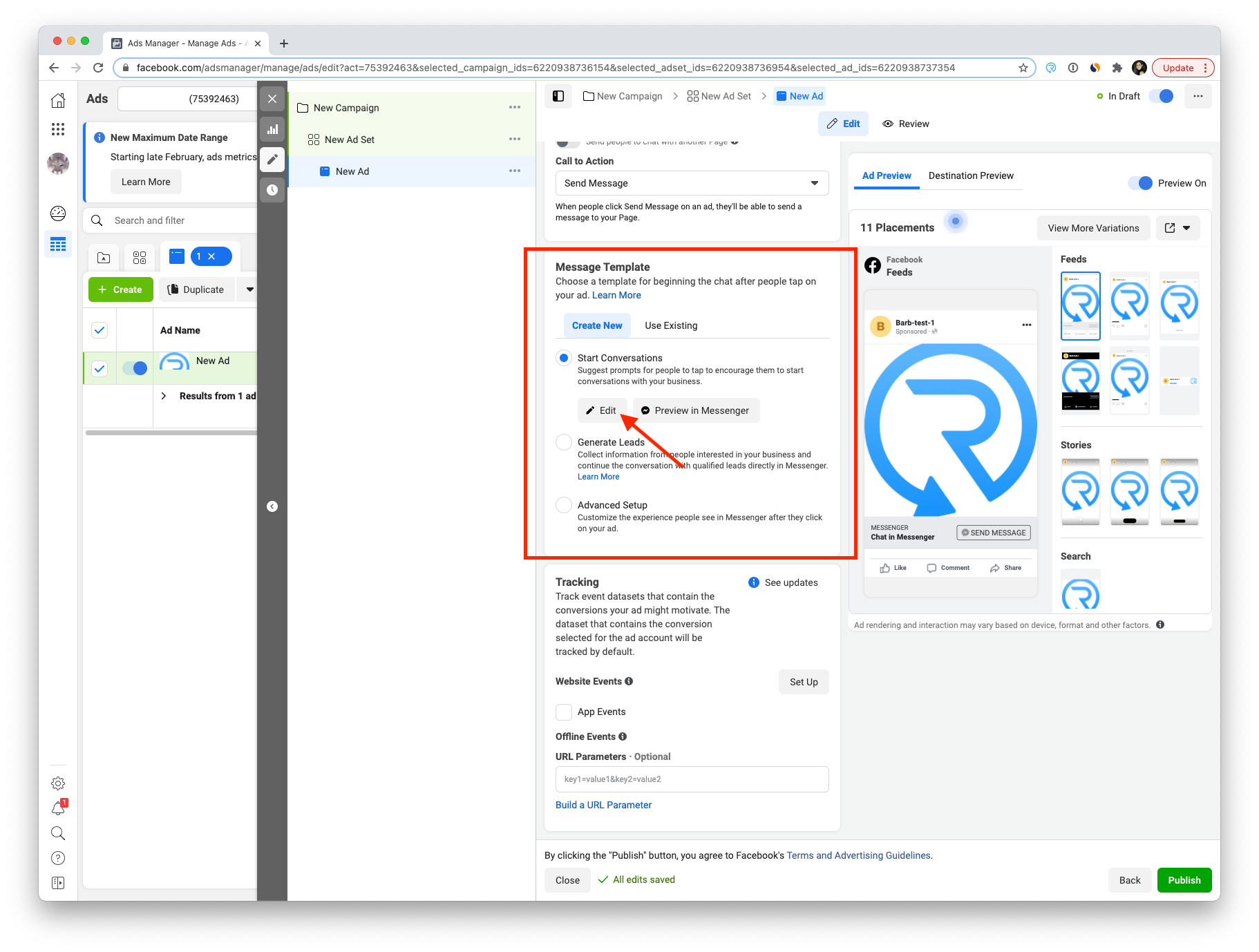 In the Template section follow the steps below:
1. Craft your welcome message. For example, if you promote a discount, you can say: "Hey there! Are you ready to redeem your exclusive discount code?"
2. Make sure you use Buttons as the Customer Action.
3. Customize your button text.
4. Set the Action to Send a postback.
5. Paste the bot payload to the empty field from the upper left corner of your Recart conversation flow.
6. You can then Preview your ad in Messenger, then click on Save and Finish.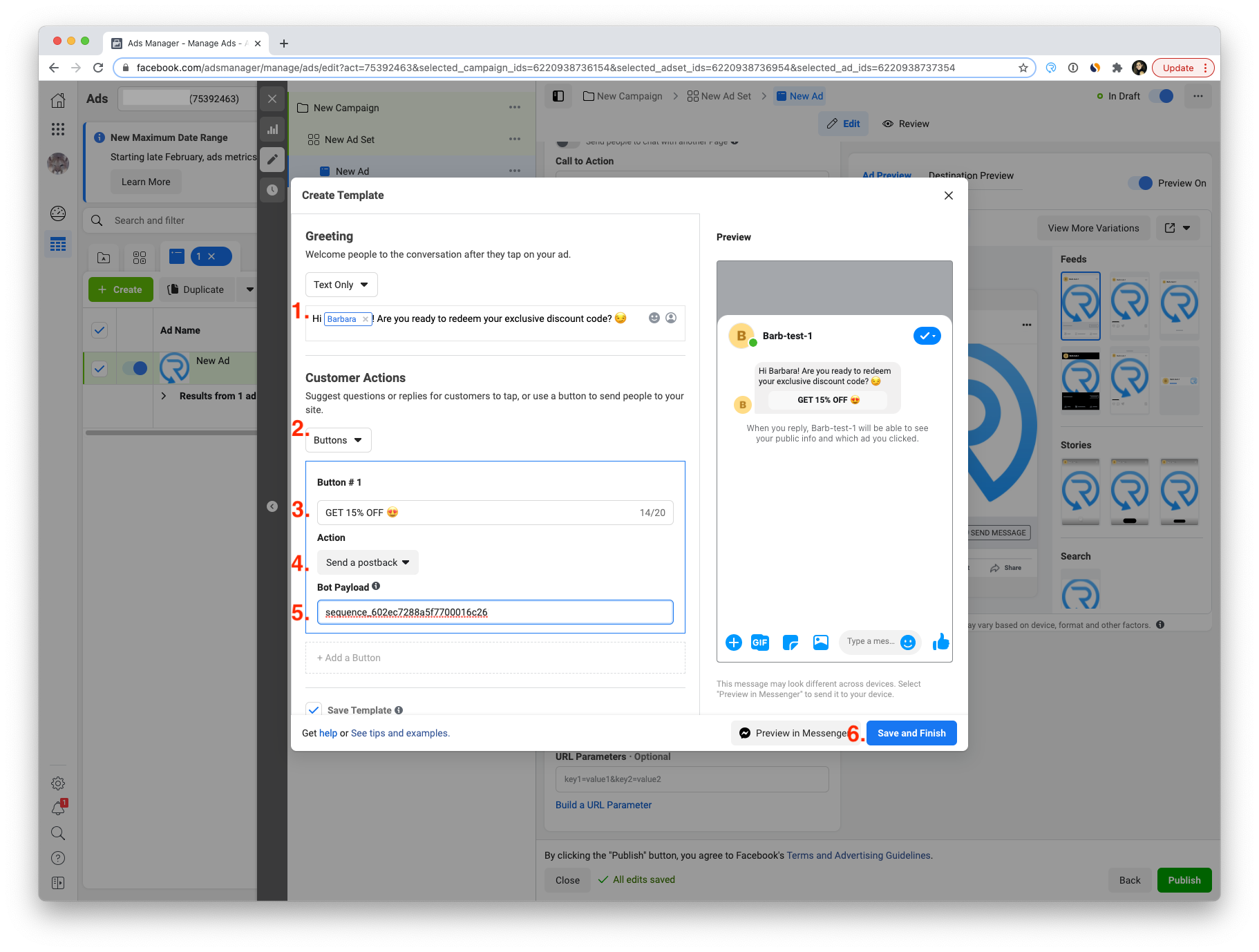 Before you Publish your ad, make sure your Conversation Flow is Saved and Active in Recart, as described in the beginning of this article.
After this is all done, your custom conversation is connected to your ad and your customers will receive your Recart messages by clicking on the button. 🚀
Do not hesitate to contact us if you have questions, we are happy to help. 😊