Learn what the upcoming changes mean to your business and how you can mitigate any undesired effect.
Due to upcoming European privacy regulations, Facebook made some temporary changes to the Facebook Messenger Platform, which will affect Recart users and some Recart features starting from December 16, 2020.
After December 16, European businesses will not be able to create or publish sponsored message campaigns. As an alternative, Click-to-Messenger ads will still be available.
Businesses outside of Europe will continue to have access to creating and sending sponsored messages, however, their sponsored messages will not be delivered to European end-users.
If your business is based outside of Europe, but you have account managers in Europe with admin privileges to your Facebook Business, please verify if your business is currently affected, as you might need to remove European admin accounts to regain access to sponsored messages.
Opt-in tools
Affected businesses will not have access to some personal information about new subscribers, including their name and gender. Similarly, this information about EU end users will not be available to any business.
Because we do not have access to the data mentioned above, Recart will not be able to show you the accurate open rate figures or the new subscribers on your Subscribers Page.
Additionally, the following opt-in tools will not render for European end-users: Sticky Discount Box, Discount Widget, Add-to-Cart Popup, Order Page Subscription.
Popup integrations that use a Messenger checkbox for opt-in are also affected.
Our all-time favourite opt-in tool, the Welcome Popup is still available and recommended for use by all businesses, including those based in Europe.
In addition, we also recommend using the Customer Chat. Please note that it will work properly if you turn off the Smart Display feature.
Welcome flows
As a side effect of the changes made by Facebook, the behaviour of welcome flows will change slightly.
From December 16, welcome flows will be sent to new customers as usual, however, they will not be sent to visitors who already have an open conversation with your business.
Based on our estimation, this change will not impact most businesses, as the intended use of welcome flows has always been greeting new visitors and making them a lucrative offer to convert them to customers.
Nevertheless, some business might see a low to medium decrease in the reported effectiveness of the Welcome Popup.
If you think your business is affected, please contact our Customer Success team, we will be happy to review your numbers and help you mitigate any undesired effect.
Conversations on desktop computers
The conversation experience for mobile users is largely unaffected, however, the following elements will not render for European users opening Messenger on their desktop computers: buttons, cards, images, videos, audio and file attachments.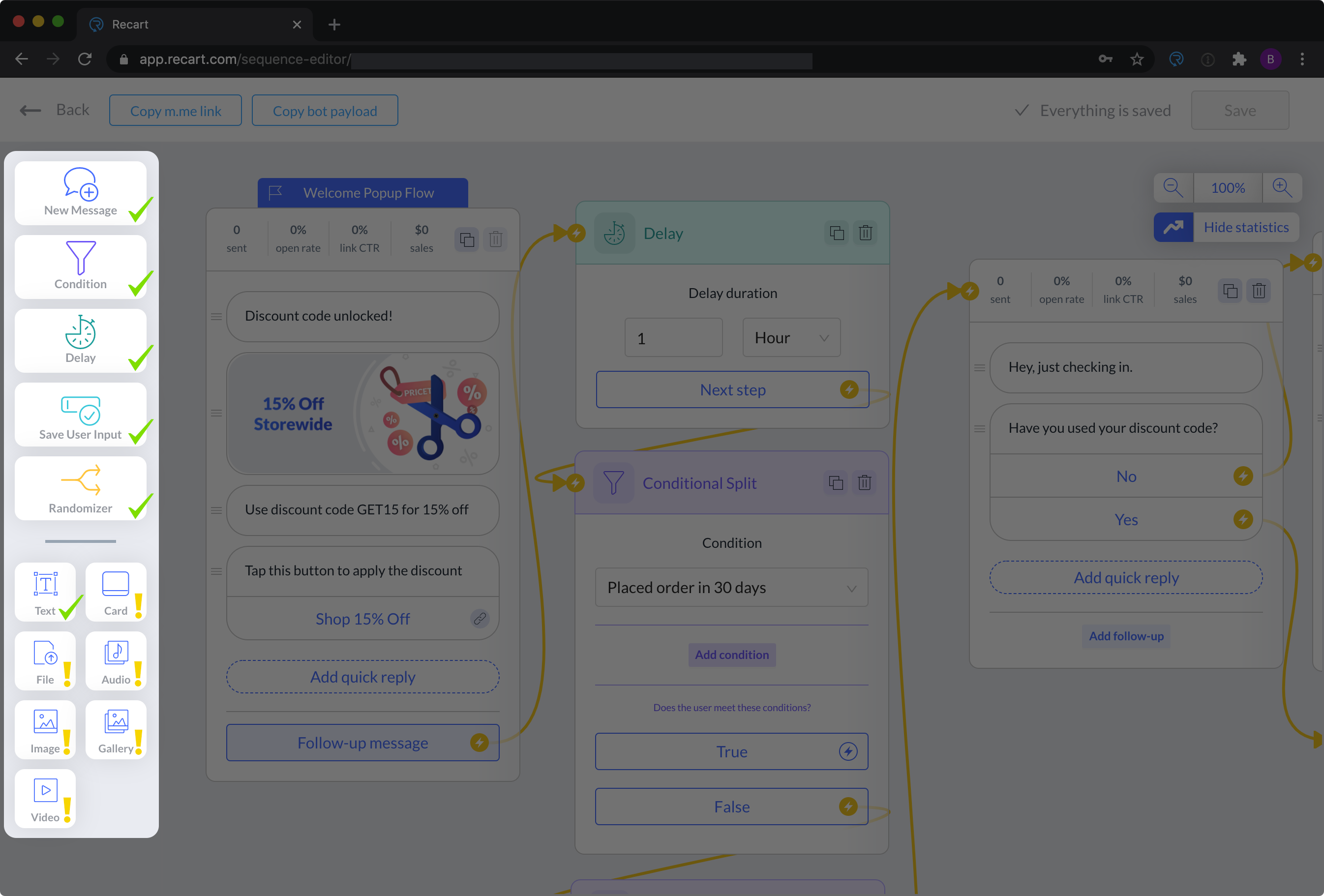 The overwhelming majority of Facebook Messenger conversations take place in the Facebook Messenger app on iOS or Android, rather than on the web client on a desktop computer. Therefore, we expect these changes to have little effect on your overall marketing strategy and conversion rate.
In case one of your flows is specifically targeted at European desktop users, we recommend using quick replies instead of buttons and replacing embedded attachments with links to the attached media.
What to expect in 2021
Facebook made it very clear that these changes are only temporary and they will share more information about a plan to reintroduce these features for European end-users early next year.
We will keep you informed about our mitigation efforts and any upcoming news about the Facebook Messenger Platform that is relevant to your flows created with Recart.
Learn more
If you would like to read about the specific API calls that are affected on the Facebook Messenger Platform, please see the official changelog where Facebook originally announced the planned changes.