Learn how you can grow your subscriber list with keywords.
Create a keyword and a welcome message and let people subscribe to your list by texting you. Sounds simple, right? It is! You can advertise your keyword via any online and offline channels which gives you an opportunity to engage potential customers basically anywhere and anytime.
With Recart you can create multiple keywords, there is no limit to the number of this opt-in tool type. You will need to make sure each keyword opt-in tool has a connected welcome message.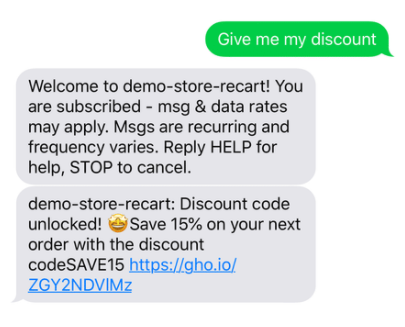 How to create a new Keyword?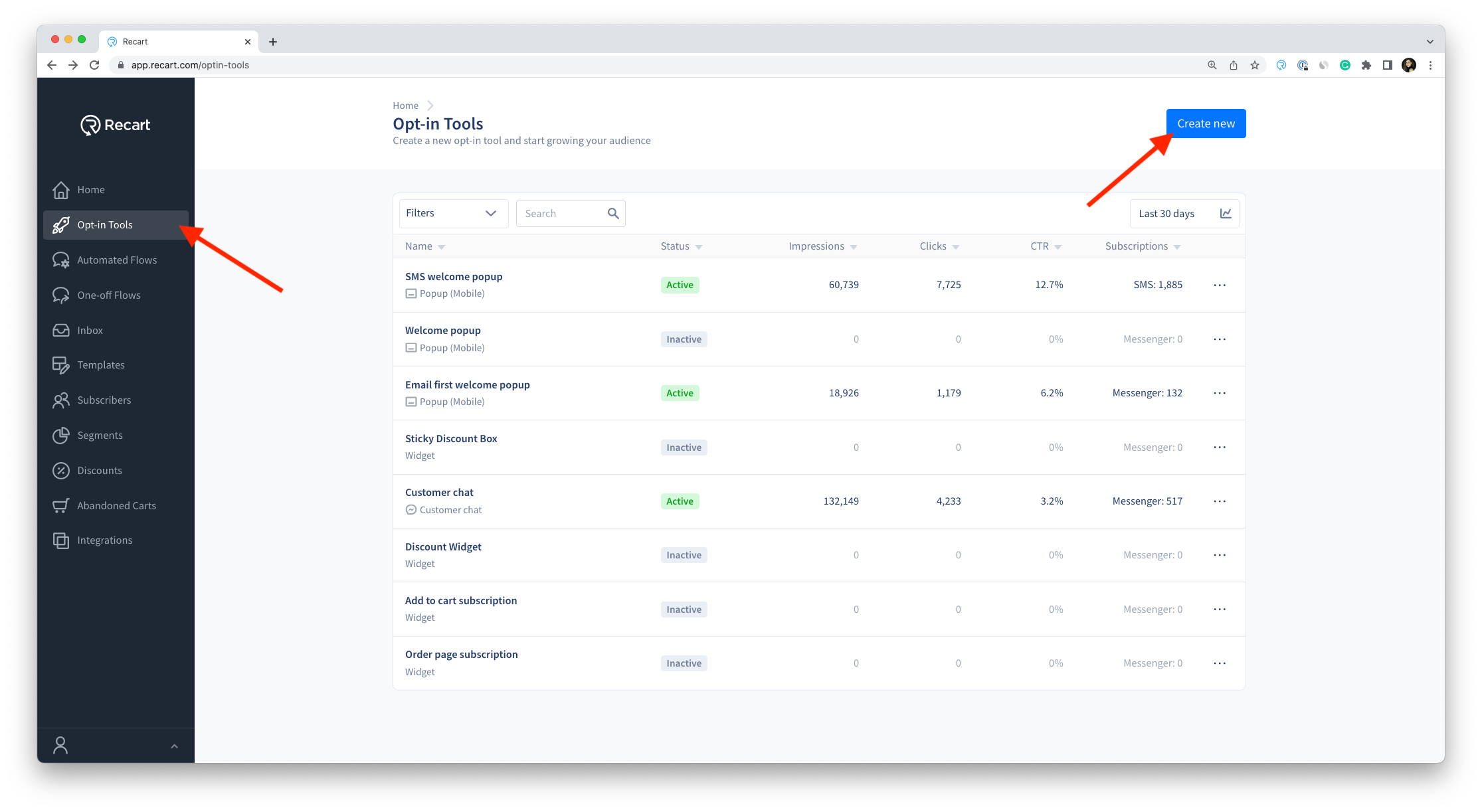 2. Choose the Keyword opt-in type.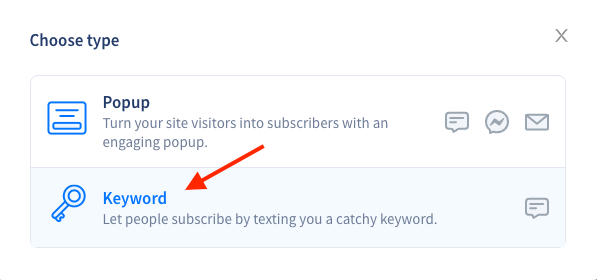 3. Add your keyword or expression to the Keyword field.
This will be the text people need to send to your number to opt in.

This will also be the name of your keyword opt-in tool.
4. Attach a welcome message
You can select an existing welcome message

Or you can create a new welcome message separately for the keyword
5. Click on the Create button.
Important notes about keywords:
They can be one or more words, space is an allowed character

The number of added characters must be a minimum of 3 and a maximum of 20

They can contain letters of the international ABC, and numbers from 0 to 9

They can not contain special characters such as: ?, -, _, /

They are case insensitive, uppercase and lowercase will work equally

You can not create multiple opt-in tools using the same keyword, keywords must be unique

You can not use Help, Unsubscribe, Unstop, and Stop to set up a keyword opt-in tool
Once created, your keyword will appear on the Opt-in Tools Page. You can activate and deactivate it by clicking on the three dots next to it.
Please note that if people are sending the keyword to your phone number, but the keyword opt-in tool has inactive status, people will not be subscribed to your list. The subscription works only with an active keyword opt-in tool and with an active welcome message!
Keywords sent with special characters such as ?, !,-, etc will be recognized and will subscribe the user to your list.
On the same page, you will be able to track how many people subscribed to your list via the keyword opt-in tool in the Subscriptions column.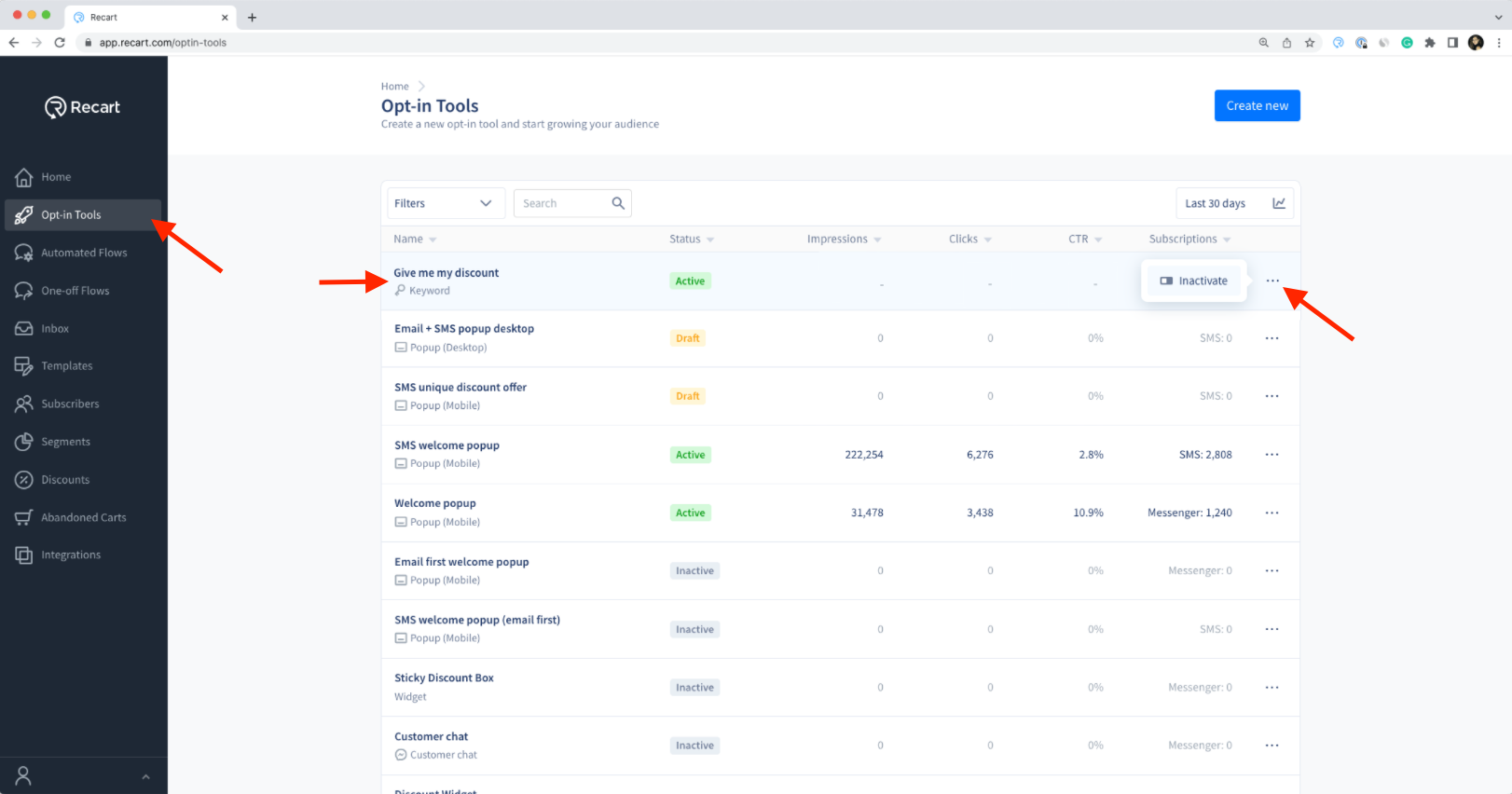 If you click on the keyword you can modify the attached welcome message, on the other hand, you will not be able to modify the keyword's name. You will also find our recommendations about sharing your keyword on this page.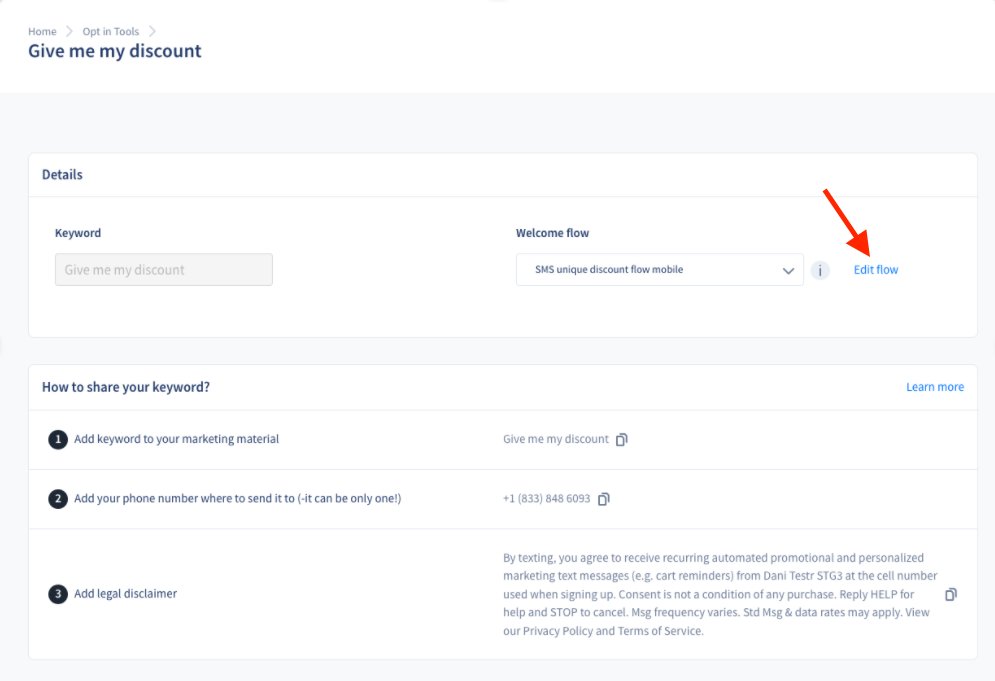 Stay compliant when advertising your keywords
Text marketing legal requirements apply to keyword type opt-in tools as well!
Make sure you add the compliance language that informs your audience they are opting-in to text messages from your store disclaimer on every channel you advertise your keywords, including online and offline.
Copy the below text and replace [STORE NAME] with your brand's name.
By texting, you agree to receive recurring automated promotional and personalized marketing text messages (e.g. cart reminders) from [STORE NAME] at the cell number used when signing up. Consent is not a condition of any purchase. Reply HELP for help and STOP to cancel. Msg frequency varies. Std Msg & data rates may apply. View our Privacy Policy and Terms of Service.
Please note that in case you can not link your Privacy Policy and Terms of Service, you are supposed to add the URL-s that direct to these documents.
Learn more about text marketing compliance here.
Some examples of a compliant keyword opt-in advertisement👇
Website banners or email newsletter banners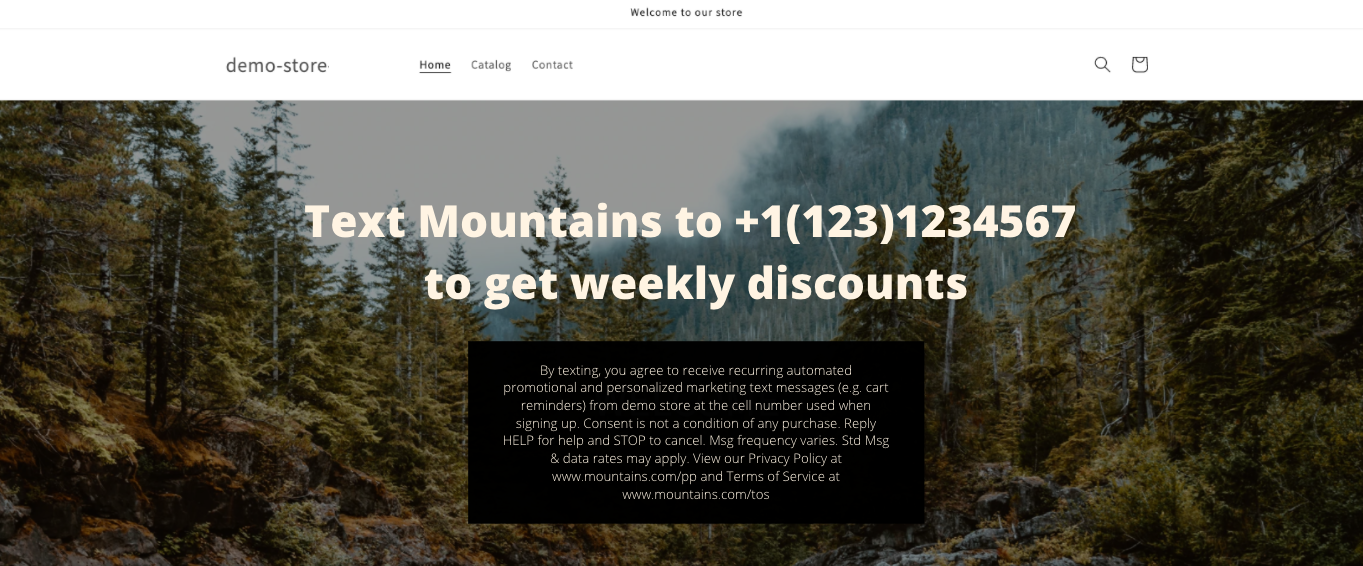 Social media, posts, cover pictures, stories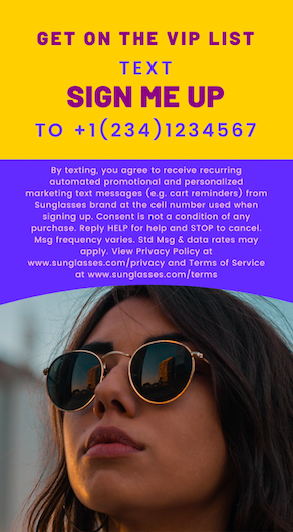 Printed flyers, posters, business cards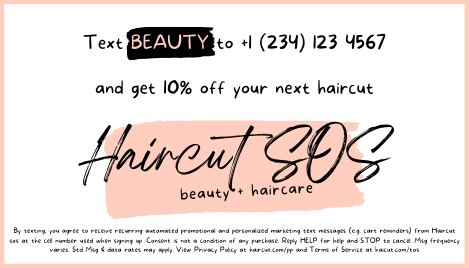 Pro tip: Create separate keywords and welcome messages for each platform or campaign where you collect subscribers with this type of tool. Only this way you will have accurate statistics! In case your keywords are advertised on multiple platforms, we will not be able to display statistics separately.
Target subscribers who opted-in to your list with a certain keyword
Our segmentation feature allows you to create segments for a specific audience, for instance, those who used a keyword to subscribe to your list.
Create a segment where the source of opt-in is the keyword opt-in tool, and send them customized SMS campaigns with tailored offers.

If you have any remaining questions, do not hesitate to contact the Customer Support team.