Learn how you can import your existing text list to your Recart account.
If you are already an experienced text marketer and have an existing text list, you have the option to import them to your Recart Subscriber list in order to send them SMS Campaigns.
Important note: In order to comply with text marketing regulations you can only send messages to customers who gave you explicit consent to receive promotional messages. Please make sure you import phone numbers with proper consent!
To learn more about SMS marketing compliance check this article.
Please note that the below step-by-step guide explains how you can import subscribers to your main subscriber list, where all subscribers are included. If you would like to create a separate static list of your import, please follow this article.
How to import your subscribers?
Login to your Recart account and go to the Subscribers Page. Click on the Import CSV button.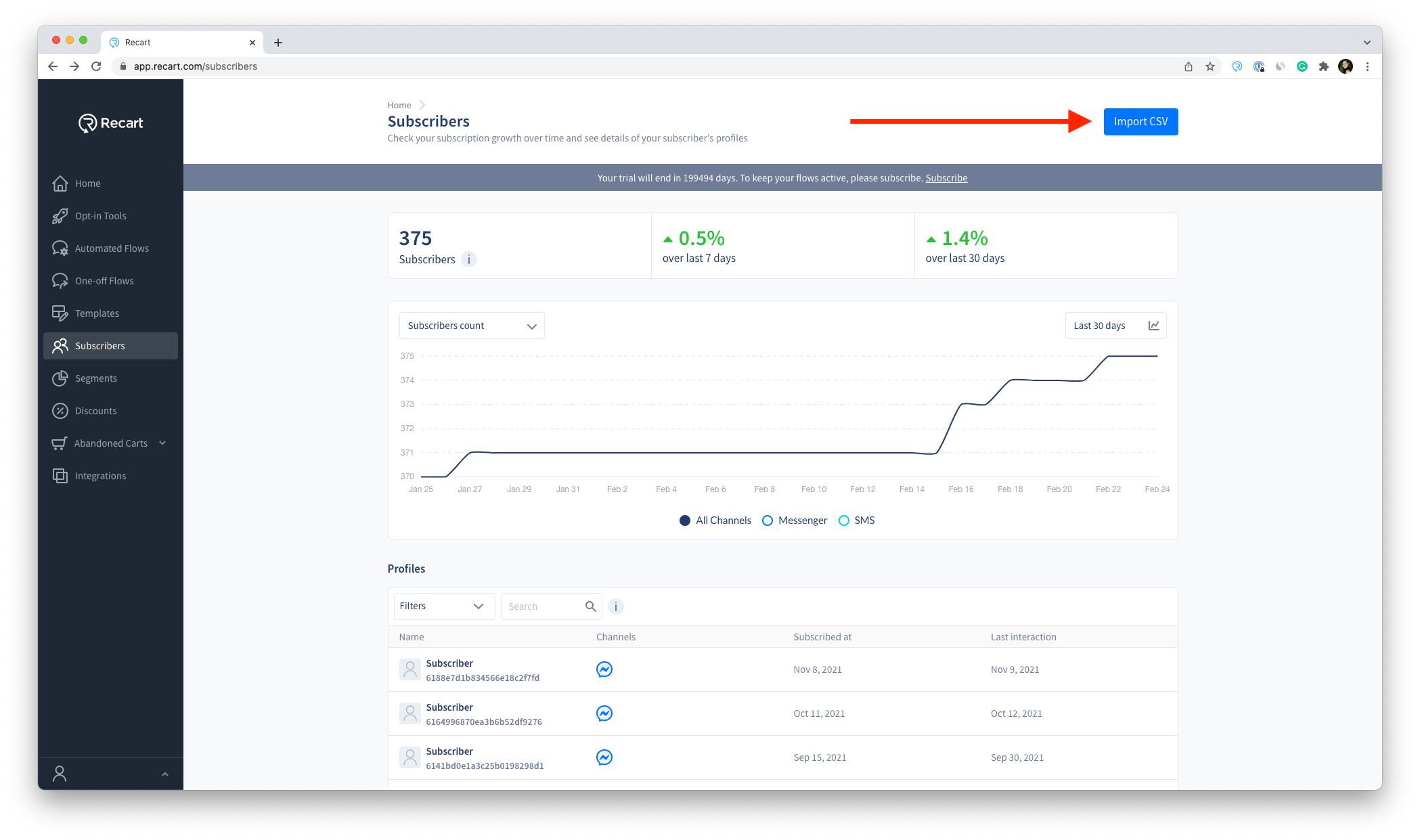 You will need to upload a CSV file, as this is the only format we support. You can either drag and drop your file or click on the file uploading area and select the file from your computer.
CSV Requirements
The file needs to have a header

The phone number column is mandatory

Only US and Canadian phone numbers can be uploaded (both the international and the regional format is accepted) Numbers of other countries using the same network are also accepted: American Samoa, Guam, Northern Mariana Islands, Virginia Islands, and Puerto Rico

The size of your file can not exceed 50MB
Additional notes
Besides phone numbers, we can handle the below information, but these are not mandatory columns:

PSID, which is the Facebook ID of the imported subscriber

If your CSV contains additional columns you can upload them, but Recart will not add those to the user's profile

If your CSV is bigger than 50MB you should upload the subscribers in separate CSV files

Recart won't store the CSV file, it will be deleted after the upload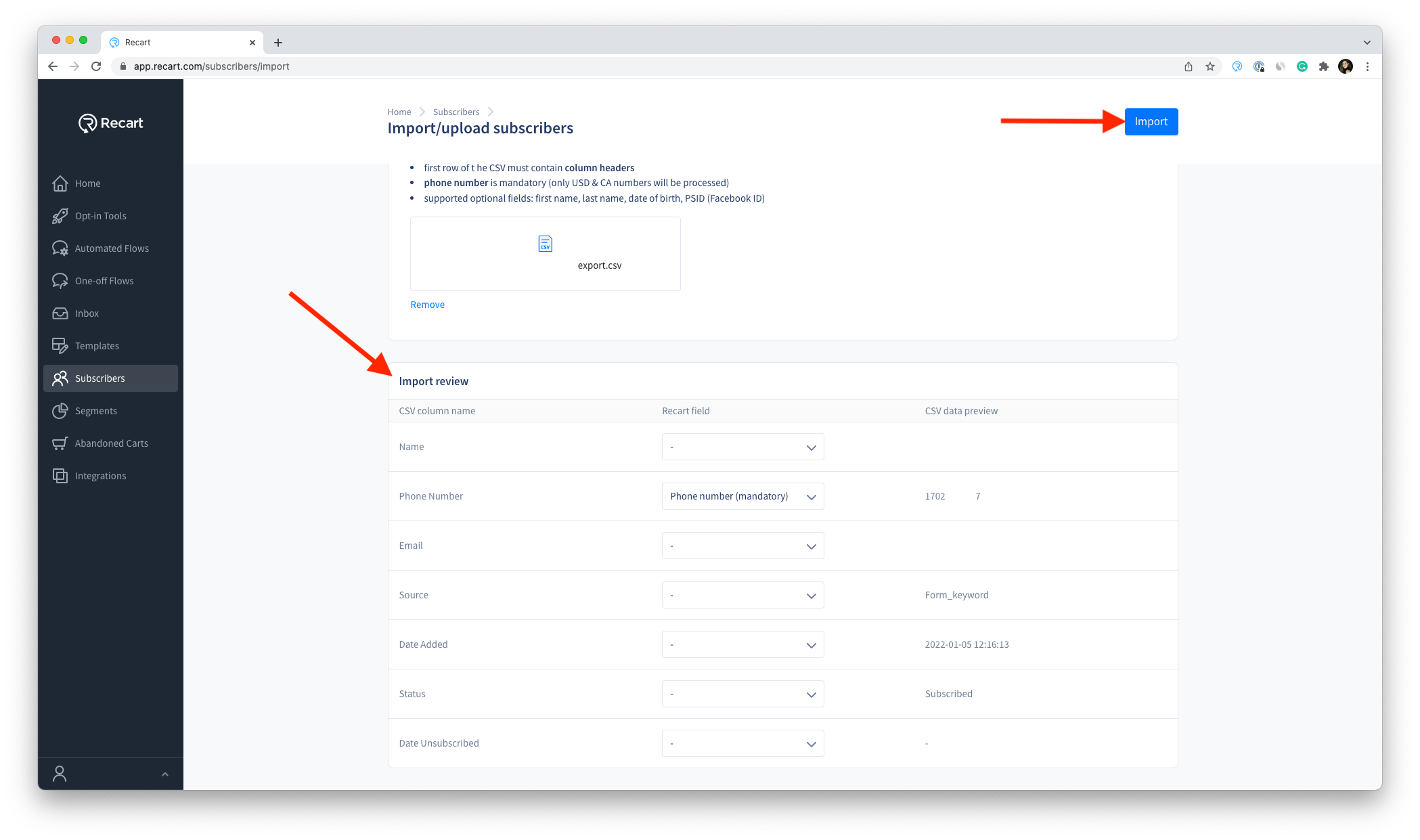 When you added your file, you will have the chance to match the right fields to the right data. Note that you can only choose the above-mentioned information from the drop-down. In case your file has other columns that Recart will not handle at the import - such as Email address or Address -, you can leave that in the CSV but it will not be added to the subscriber's profile.
To finalize the import, click on the Import button in the upper right corner.
Import statuses and details
Your imports will be visible on the Subscribers Page. When the import is being uploaded the Uploading status will be displayed next to it, while the finalized imports will have the Uploaded status.
When the import is Uploaded you will see the number of new and updated subscribers. Besides the successful imports, which indicates how many contacts did not meet the criteria in your file. (Eg.: Non-US or Canadian number )
Note: The name of the import will be the same as your CSV file's name. This can not be edited from Recart.

What if a subscriber you are importing is already on your list?
Based on the data of your existing Recart subscriber's list there are three possible scenarios:
Creating a new subscriber We consider a subscriber new when the phone number or the PSID in your CSV is not in your existing subscriber's list. In this case, the subscriber will be imported as a new one.
Updating a subscriber In case the uploaded phone number or PSID matches a subscriber in your Recart list, the existing subscriber will be updated.
Not updating a subscriber In case the uploaded phone number matches a subscriber in your Recart list but has already unsubscribed from receiving text messages, the existing subscriber will not be updated.
How to delete an import from your Subscribers list?
There is no option to delete imported contacts from your list. In case you would need an imported list to be removed or unsubscribed, please contact us as described below.
If you have any remaining questions, do not hesitate to contact the Customer Support team.