Learn how Instagram and text marketing can be leveraged together.
Instagram is a great Social Media platform for businesses to interact with existing and potential customers by creating a variety of exciting content such as images, videos, animations, polls, countdowns, live videos, etc. Either your business already has a decent follower base, or it is new on this platform, you have a good opportunity to turn this traffic into SMS subscribers.
How to convert your Instagram traffic to text message subscribers?
Have a keyword opt-in tool created
The first step is creating a keyword opt-in. With this opt-in tool, you can have your followers subscribe to your list simply by texting the keyword to your phone number. Follow this guide to create your keyword opt-in tool.
Once you have your keyword ready and an active welcome message is attached to it you are good to proceed with adding it to your Instagram posts and stories. 👇
Promote your keywords
Create a design that fits your brand's image, and make sure the below three elements are included:
The keyword the follower needs to send to opt-in

The phone number the follower needs to send the keyword to (Find it on your SMS Settings Page)

An offer such as a discount code or access to exclusive content
In order to stay compliant it is required to add the legal disclaimer right next to the call to action! Hence if you add 'Text keyword to phone number' to the description, you must copy the legal disclaimer under it as well.
You are free to copy the below text and replace [STORE NAME] with your brand's name:
By texting, you agree to receive recurring automated promotional and personalized marketing text messages (e.g. cart reminders) from [STORE NAME] at the cell number used when signing up. Consent is not a condition of any purchase. Reply HELP for help and STOP to cancel. Msg frequency varies. Std Msg & data rates may apply. View our Privacy Policy and Terms of Service.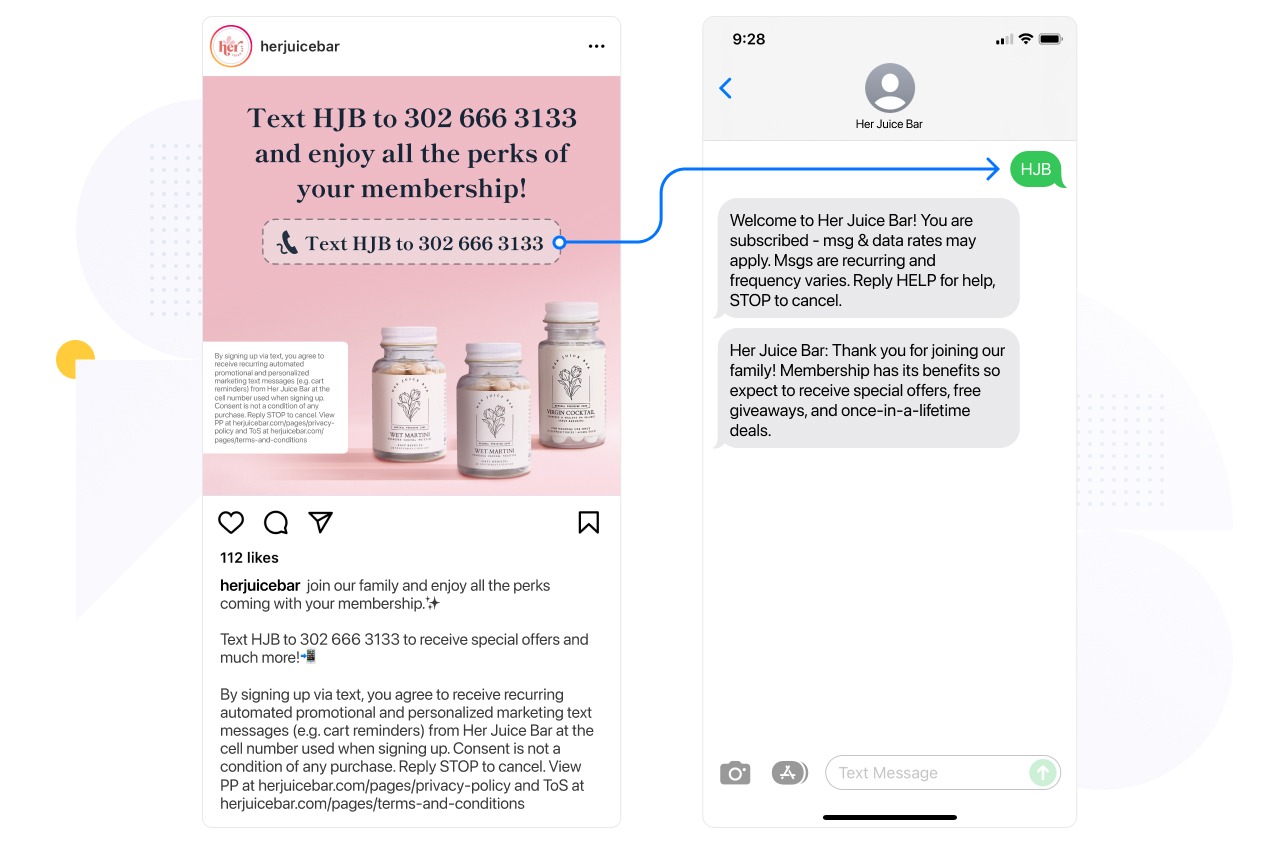 Advertise a link opt-in
Followers can opt-in to your text list by clicking on a specific link. Note that this opt-in type also requires an active keyword opt-in tool with a welcome message.
How does the link opt-in work?
After clicking on the link they will be redirected to the Messaging app where the keyword and the phone number will be pre-filled. All they need to do is click on the send button. Once the keyword is sent, the welcome message connected to it will be triggered.
How does the redirection work with the link opt-in?
On iOS ➡️ Messaging app with a pre-filled message

On Android ➡️ Messaging app with a pre-filled message

On Mac ➡️ either the Messaging app or a dedicated landing page with a Desktop Popup

On Windows ➡️ a dedicated landing page with a Desktop Popup
We recommend creating a dedicated landing page with a Desktop Popup for desktop visitors. This way those who clicked on your link from desktop will be also able to opt in to your list.
Currently, the link opt-in feature is hidden on your dashboard. Please contact your Customer Success Manager to get it activated for your brand.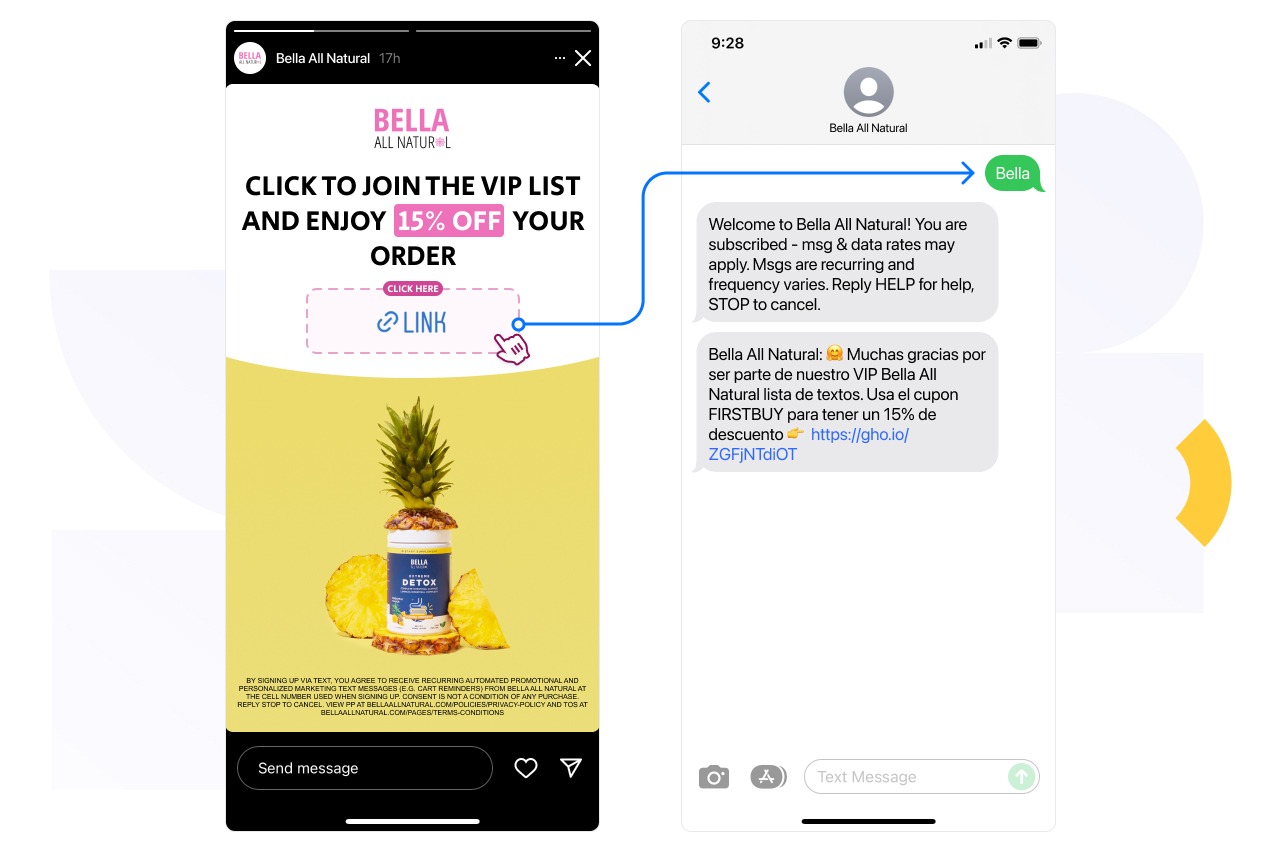 Please note that compliance rules are the same with link opt-in as in the case of keyword opt-in. Make sure you add the legal language to your story with the link!
How can you add a link to your Instagram story?
When creating a story choose to add a sticker, there you will find the Link option. Click on the Link and copy the link sent to you by your Customer Success Manager to the URL field. You can also customize the sticker's text that will appear on the story.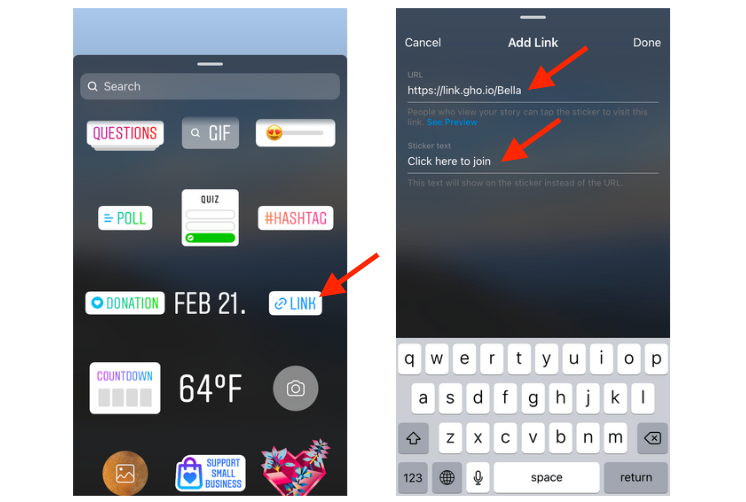 Pro Tip: Save your Instagram stories to Highlights to keep them available on your profile after 24 hours and to increase visibility. We recommend categorizing your Highlights based on the content of your stories: eg.: product showcase, event promotion, sales and discounts, testimonials, Q&A, etc.
Influencer marketing
If you already work with influencers, they can also promote your keywords. Make sure they include the legal disclaimer anywhere they publish your keywords to stay compliant! It is recommended to create separate keywords and welcome messages for each influencer you work with in order to track the statistics separately.
If you have any remaining questions, do not hesitate to contact the Customer Support team.