Engage more customers by adding branded images and GIF animations to your text messages.
Recart now gives you the ability to add images and GIFs to accompany your text messages. You can now include branded images, product photos, or graphic designs that align with your marketing communication in the text messages you send.
How does it work?
When sending text messages to your subscribers from Recart, you have the option to add images from the editor. You need to drag and drop the Image element under the text, then you need to upload your file.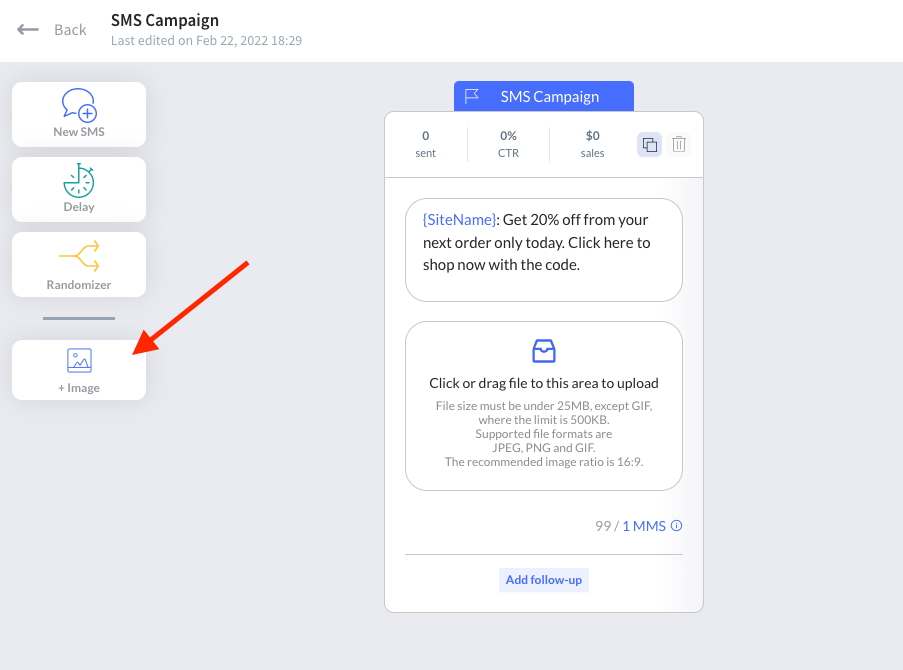 Once you add an image or GIF to your text message, it will automatically be converted to an MMS message, as you can see in the editor. Each message can contain a maximum of one text element and one image element meaning that there is no option to add multiple images to one message. By moving the cursor to the image element, you can upload and remove the image you want to send.
What type of media can be added to your text message?
Format: Recart supports JPG, JPEG, PNG, and webp format images. Once you upload an image in any of these formats it will be converted to JPEG. You can also upload GIF files. None of these formats support sound.
Size: Image size affects the speed of delivery, thus it is recommended to add smaller images eg.: 200KB. The maximum image size is 25MB, while the maximum GIF size you can upload is 500KB. Please make sure you do not exceed this limit otherwise you will not be able to upload them or the message might not get delivered.
Orientation: We recommend using either square images with 1:1 ratio (600x600px) or vertical images with 9:16 ratio (for example 640x1138px), as these are the best fit for most mobile devices. If you would like to add a landscape image the recommended ratio is 16:9 (for example 1280x720px). If the image or GIF is too big, they could be cut off, and recipients would need to click to expand to get the full experience.
Image examples in SMS messages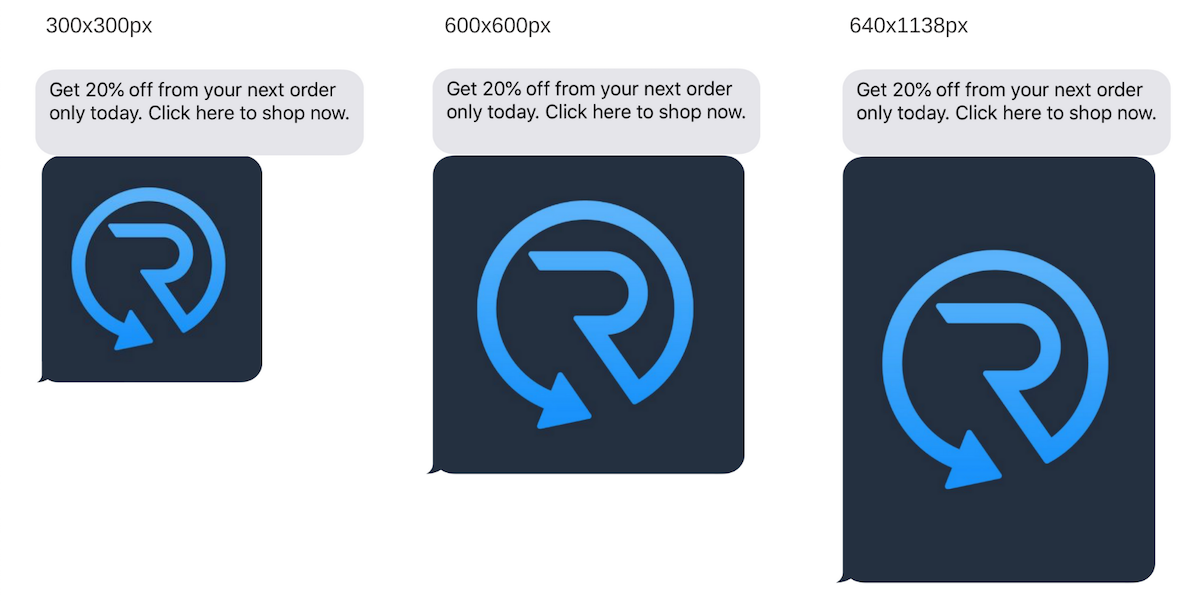 Please note that images and GIFs might be displayed slightly differently depending on the device.
GIF sending best practices
Keep the recommended size and ratio to improve the delivery speed and the user experience. You can experiment with what size works best for your brand and stick to it.

Use short animations. When adding long GIFs there is a possibility your subscribers will skip watching it until the end.
What is the character limit when you add images or GIFs to your text message?
When you add an image to your text message and it is converted to an MMS message, the character limit automatically increases to 1000 characters. This allows you to provide further details to your customers about your brand, current promotion, new products, etc.
You are unable to add more than 1000 characters to the message. If you want to add more text, you will need to add a separate message, which can be either be a standard text message or another text message with an image.
Delays
Please note that MMS messages are much more likely to be delayed than SMS messages and the delivery might take up to hours. Therefore it is recommended to avoid adding images or GIFS to welcome flows or other time-sensitive messages.
In case you need further assistance, feel free to contact our support team, we are happy to help. 😊