Say hello to your new subscribers and engage them right then and there.
Everyone likes a warm welcome, and engaging your new subscribers is especially important for your Facebook Messenger Flows. For that reason, we added an easy way for you to say hello to your new subscribers, and start a conversation with them immediately.
Now you can build up a chatbot inside the editor. Once your customers receive your welcome message, they can reply back to your flows with a quick reply, and every quick reply will trigger another answer for them. 🚀
To enable Messenger Welcome Flows, please visit your Recart Dashboard and go to Automated Flows ➜ Welcome.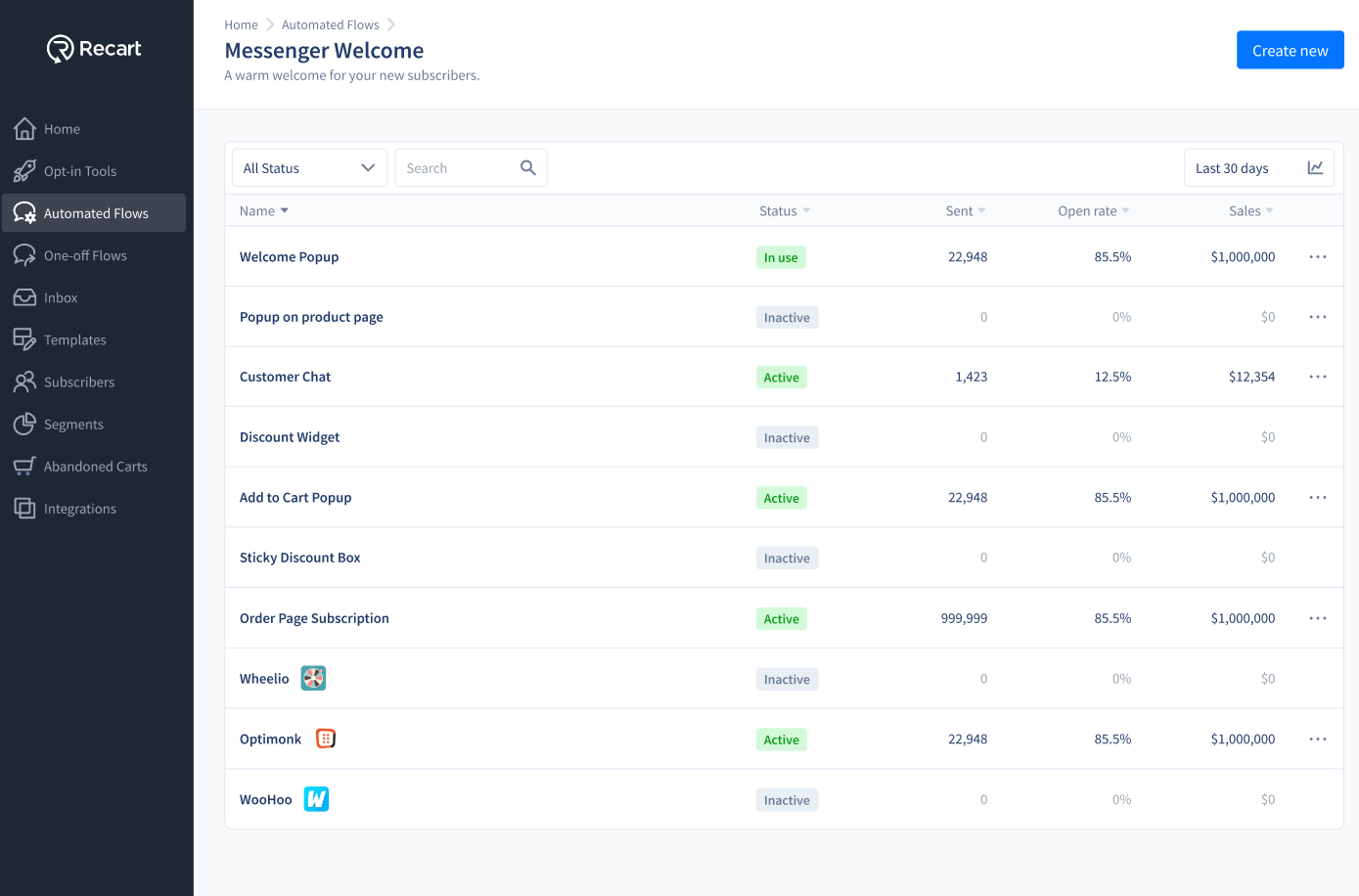 On the Welcome page, you will see a separate Welcome Flow for all Op-in Tools, enable those which tools you are using. You can enable and edit the individual flows to make sure that your Welcome Flows are set up just the way you want them.
Welcome Flows will give you several benefits and help you maximize the potential in all your Facebook Messenger Automated flows.
First of all, Welcome Flows will improve the customer experience. When signing up to your Facebook Messenger Automated flows, they will receive an introductory message to let them know about the subscription.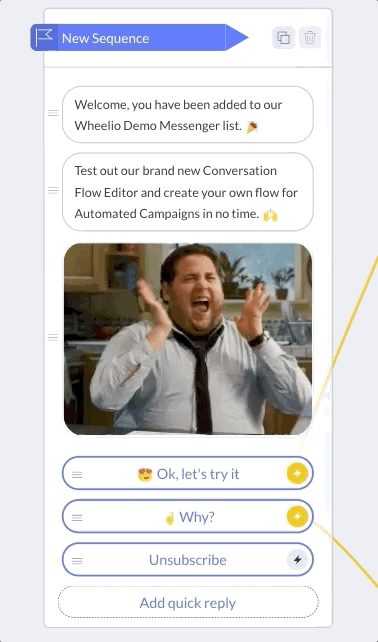 This will help avoid unintentional subscriptions that might lead to complaints or unhappy customers. This way, you can ensure that your customers are aware of their subscription and they will be prepared to receive marketing messages from your store via Facebook Messenger.
Welcome Flows will also help you engage your new subscribers right when they subscribe which is essential for effective marketing campaigns and will help you identify new subscribers.
You can also use Welcome Flows add a quick introductory greeting to new conversations started using the Customer Chat. Use this message to let your customers know when they should expect a response from your team.
Make sure to add quick replies to your Welcome Flows. You want to receive as many replies form the Welcome Flows as possible. Sponsored Messages can only be sent to subscribers who have replied to one of your Facebook messages, and the Welcome Flow is the best time to get them to reply and add them to your Sponsored Message audience.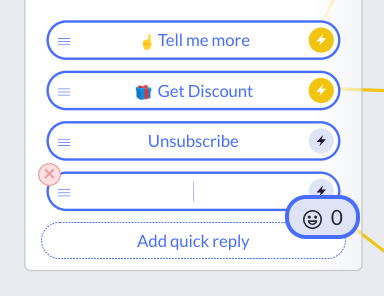 Add gifs, pictures, links, videos or sound to your Welcome flows. 🚀 Offer discounts so your customers can receive it after they clicked on a quick reply. 💪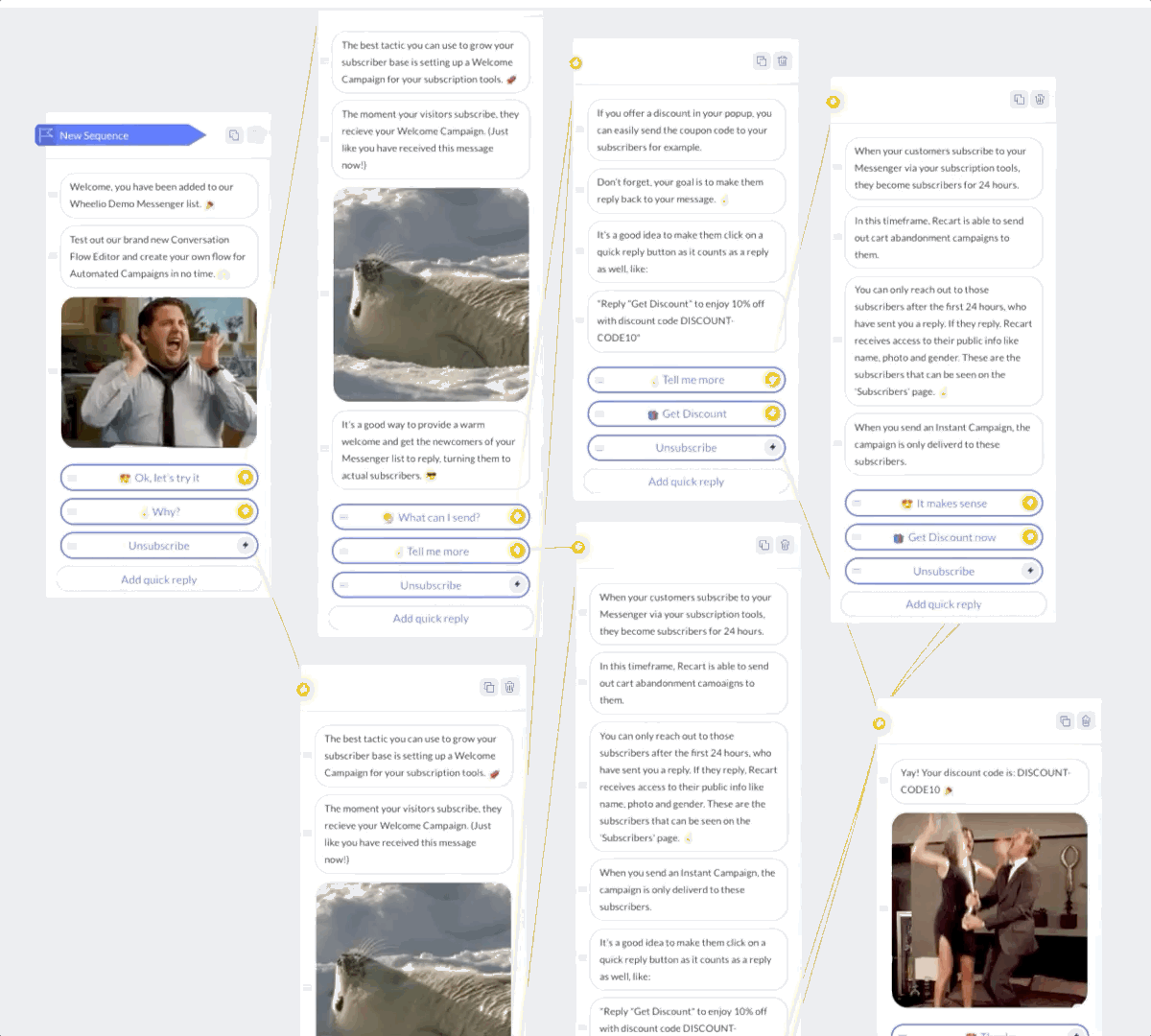 All in all, Messenger Welcome Flows are an easy way to improve the experience of your customers, increase engagement on your Facebook Marketing Campaigns and grow your Sponsored Message Campaign Audience.
Let us know if you have any questions, reach us here. 😊