Learn what a trigger is and how to use them.
Trigger selection
Triggers are events and/or conditions that will start sending out a flow. It is always the first item of the flow.
Triggers of unique flows cannot the changed, these are automatically triggered by only one subscriber action. Furthermore, these flows cannot be duplicated. Unique flows are as follows:
Now let's see how you can edit triggers for unlimited flows.
You can choose from 2 different trigger types: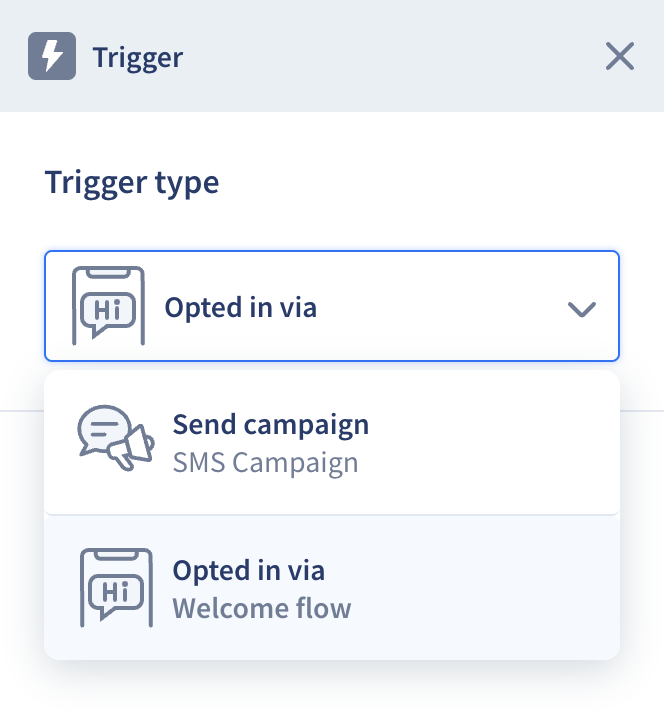 How to edit a Trigger item
Once you open up a new flow canvas -with the Create new button in any flow section- you will always have the Trigger item available on your canvas, this cannot be deleted.
Click on the item itself and the edit panel will open up on the left.
From here you will be able to choose from the different types of triggers.
Let's break down each type or trigger settings
Send campaign
Choose this trigger if you want to send campaigns to your SMS subscribers to keep them engaged and provide special deals and promotions.
Target audience
You can select your target audience. Choose from default groups or your unique ones.
Another option is to exclude a target audience, same pull will be available to choose from. You can choose multiple target groups to include and also exclude.
At the bottom of the Target audience section you can see the estimated number of subscribers.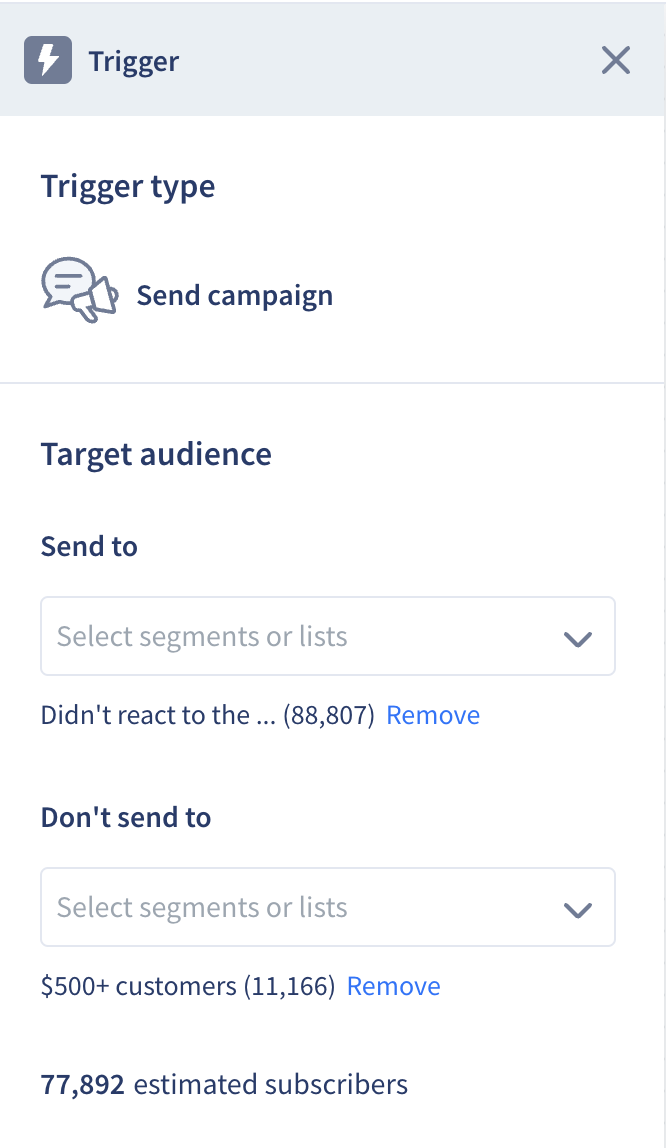 Scheduling
You can either start sending the flow immediately or set up an exact timing (in the future).
Two different timezone settings are available now in the dropdown.
Sending options
Turn Smart sending and Quiet hours on and off with a toggle for your campaigns.
Find all info about the setup of Smart sending and Quiet hours in this article.
Opted in via (welcome flow)
Choose this trigger type if you create a new opt-in tool and start growing your audience.
Once you finish editing the flow you can save it as draft. Select and connect this flow to any of your optin tools to activate it.
Important note: a trigger in an active flow cannot be edited. You can duplicate an existing flow or create from scratch.
In case you need further assistance, feel free to contact our support team, we are happy to help. 😊