Learn how to optimize your Popups to engage more visitors and increase your opt-in rate.
With Recart's Popup editor you can easily build high converting, fully customized Popups. Create a design that resonates with your brand and your customers, set up the targeting and the placement, and boost your engagement rate. Read further to learn more tips and tricks to make the most out of your customers' experience.
What should you pay attention to while building your Popup?
Content
Have a clear offer.
Make it clear what your visitors will get in return for subscribing to your text list. Normally we recommend offering a discount code. The value of the discount you provide is totally up to you. Based on our experience discount code is the best offer you can provide, but alternatively, you can offer free shipping or a gift product in return for the subscription.
Design
Make it appealing.
Use your brand's colors and add your logo. Make sure to use good-quality background images or GIFs. The recommended minimum size for an image:
Desktop Lightbox popup: 600x600px

Desktop Fullscreen Popup: 1920x1080px

Mobile Popup: 375 x 812px
Desktop Lightbox popup: 600x600px
Desktop Fullscreen Popup: 1920x1080px
Mobile Popup: 375 x 812px
Pay special attention to the visibility of the text on your Popups. If you add a background picture, make sure there it is in high contrast with the text. The same applies to your Call-to-Action button. You can edit the color of the text and the button, but in case the background picture's colors or patterns are too strong and make your text invisible, alternatively, you should edit the picture you upload or choose another one.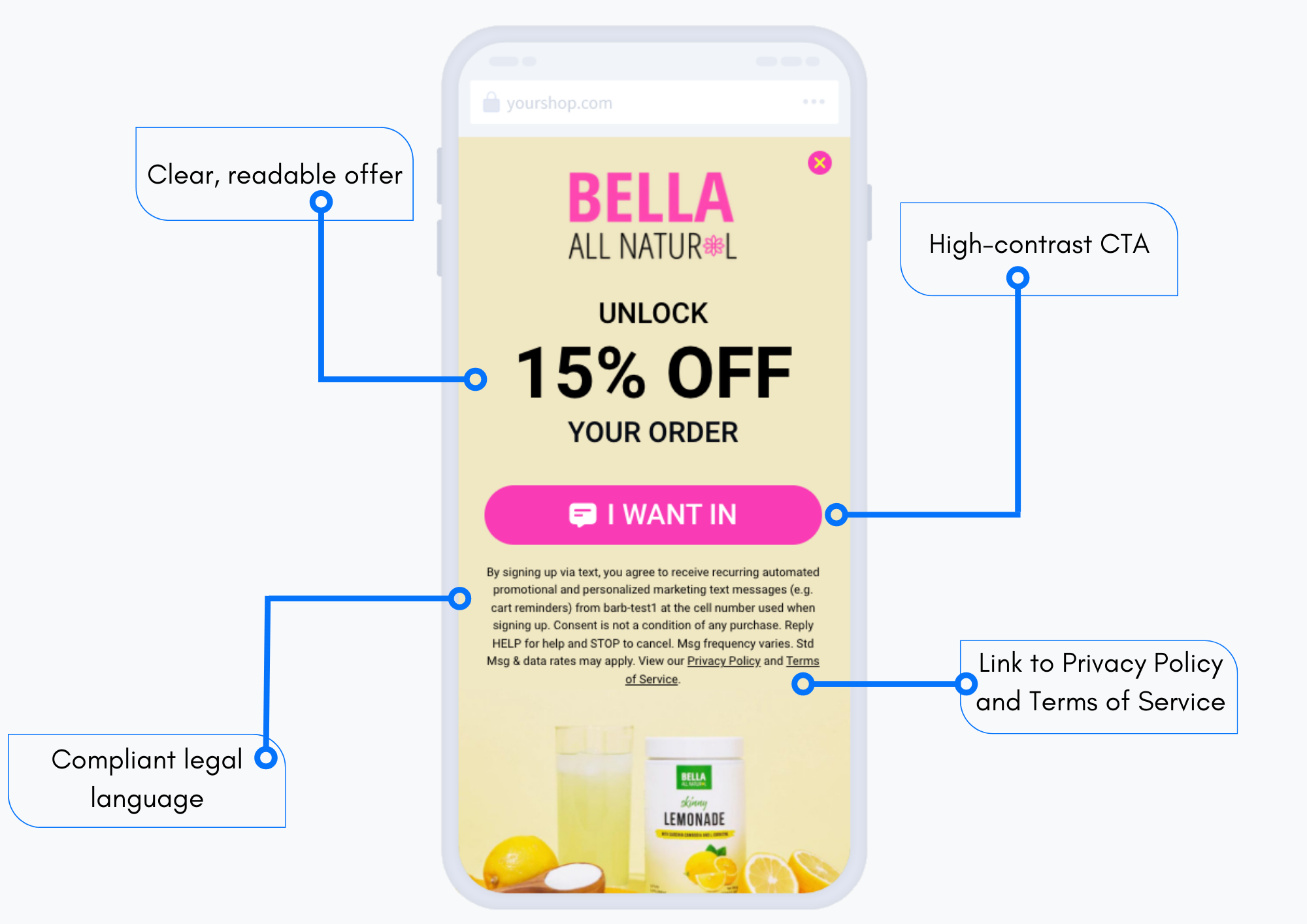 Tip: Keep your Popups' look and offer updated according to the latest season or most popular holiday.
Layout
Find the best fit for your customers.
With Recart's Popup editor you have multiple options to customize the layout and the size of the Popup. It is up to you if the whole Popup or only the minimized version should be the default tool to be displayed. You can also choose between full-screen and lightbox Popups, depending on what your customers find more attractive.
Possible Mobile Popup layouts: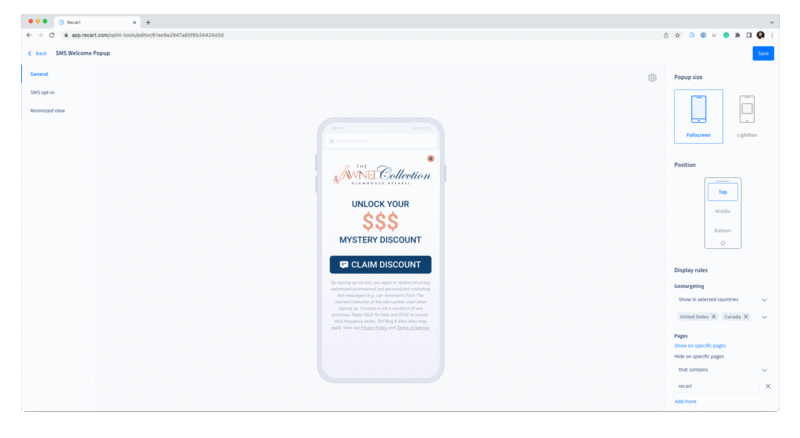 Possible Desktop Popup layouts: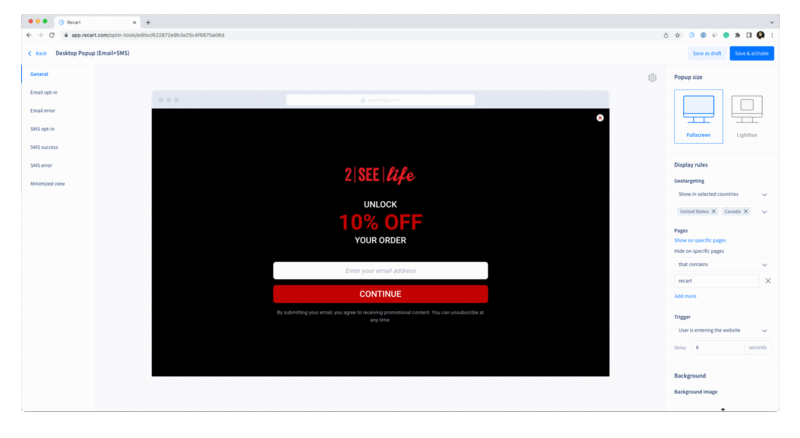 Targeting
Make it relevant.
Visitors coming to your website via mobile and desktop might be interested in different content and design. Additionally, if you have multiple landing pages, you might want to provide various offers to your visitors. No problem, with Recart you can create as many Popups as your business needs. Set up your Popups separately for desktop and mobile visitors and if you create multiple Popups for one device, make sure to use the page targeting feature. If you have the same targeting setup for the same device the Popups will interfere which is not a great user experience.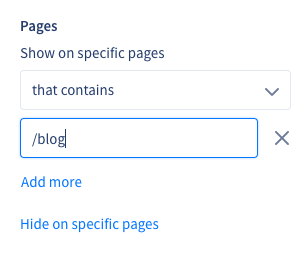 Compliance
Keep the rules.
SMS is a highly regulated channel and is subject to different rules and regulations, including the TCPA, the CAN-SPAM Act, and the CTIA Guidelines. These regulations cover opt-in compliance and being compliant when it comes to SMS marketing is crucial in order to avoid lawsuits and expensive penalties for violations. For this reason besides the above-mentioned points such as a clear offer, high contrast text, and Call-to-Action button, it is crucial to have a compliant legal text that links to your Privacy Policy and Terms of Service. The default legal text is 100% compliant and we do not recommend modifying it. The store name and the legal documents' links will be added automatically. Learn more about text marketing compliance in this article.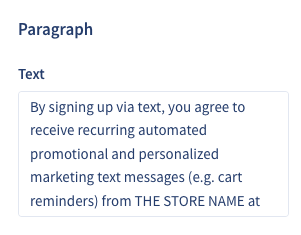 What should you avoid when building your Popups?
Now that the best practices are covered, let's see the list of common mistakes you should avoid, to make sure your Popups will convert as many visitors as possible.
✖️ Text is not visible or covered by the background image
✖️ There is no offer, or it is not clear in return for the subscription
✖️ Background image or logo is bad quality, blurry
✖️ You have multiple Popups on the same URL
✖️ Your legal language is not compliant
✖️ Your legal documents are not linked
Are you ready to start building your Popups and populating your subscriber list?
Check out our article that provides further information about creating new Popups, and learn more about the Desktop Popup editor in this article.
If you have any remaining questions, do not hesitate to contact the Customer Support team.